Scosche BTFreq Wireless Bluetooth FM Transmitter With 2 USB Charging Ports
Send music and calls through your car speakers with the Scosche Wireless Hands-Free Car Kit. Featuring an FM transmitter to transmit your phone's audio to your car and an integrated USB charging port, as well as a built-in mic for hands-free calls.
Otros clientes también compraron
Key Features
Dual charging USB ports
Send music and calls through your car speakers
No installation required
Hands-free calling via Bluetooth
Integrated LCD display and playback controls
Charge your phone or tablet while you drive
Compatible with all popular music services including Spotify and YouTube
Descripción
With this Bluetooth Handsfree kit from Scosche, you can wirelessly transmit your music phone calls and more through your vehicle's FM radio via Bluetooth. If your device does not have Bluetooth an aux port is available (that will also safely and effectively charge your device). There's also an included remote to allow you to easily switch between radio stations! Have everything you need for your car journey to be succesful with Scosche.
Dual charging USB ports
Not only can you listen to your favourite playlist in your car but you can also charge 2 devices simultaneously with this FM transmitter, the perfect road-trip accessory.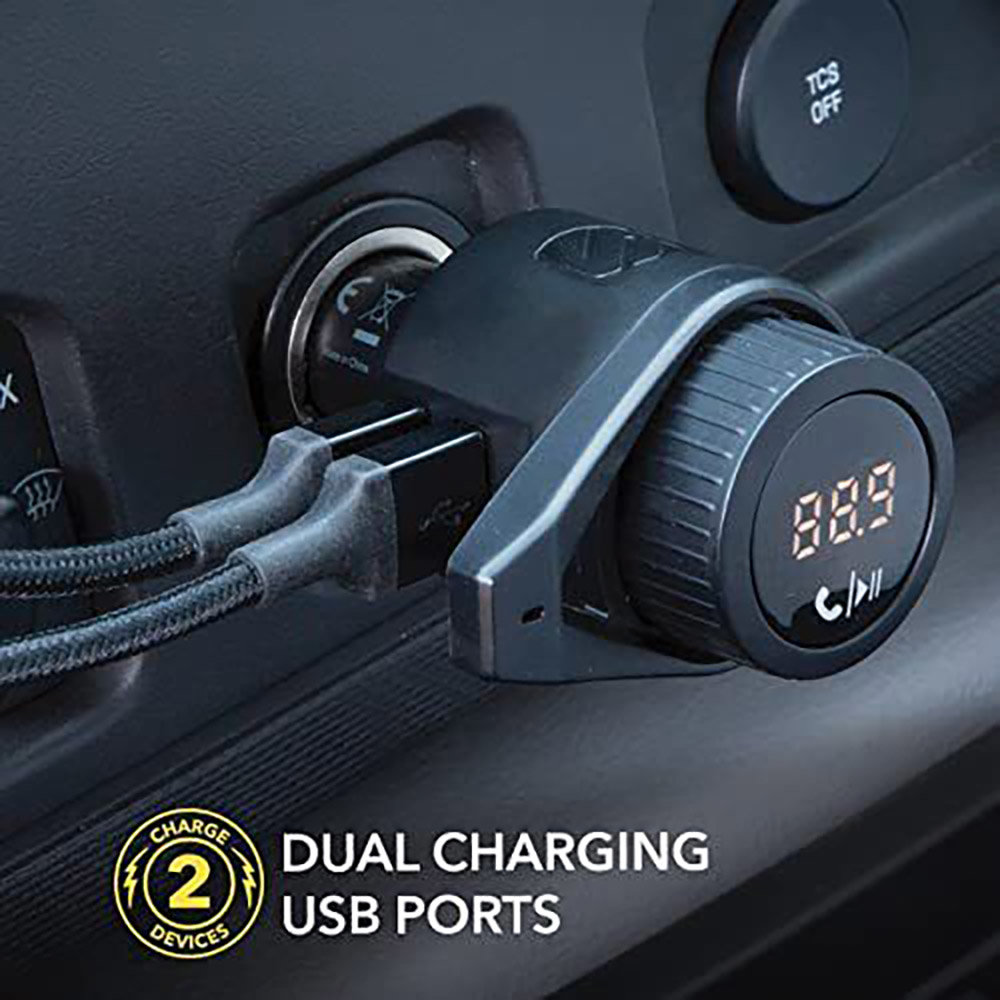 Send music and calls through your car speakers
Fed up of only having a single CD in your car? Wish you could have a larger selection of tracks at your fingertips that could be played through your in-car stereo system? Introducing the Scosche BTFreq. This is an FM transmitter that transforms your smartphone or tablet into an FM Transmitter, so you can enjoy a wide range of music heard through your car's much louder and clearer speakers. Listen to your music, podcasts or audiobooks in style using the Scosche BTFreq.
No installation required FM transmitter
No wires, no installation and no mess! Your smartphone or tablet speakers are very small and although have become more impressive over the years, they could never compete with the size and quality of an in-car stereo speaker system. The Scosche BTFreq sends audio through to your car speakers using your FM radio. Simply tune your car radio to a clear FM frequency and then select the same exact frequency on the BTFreq.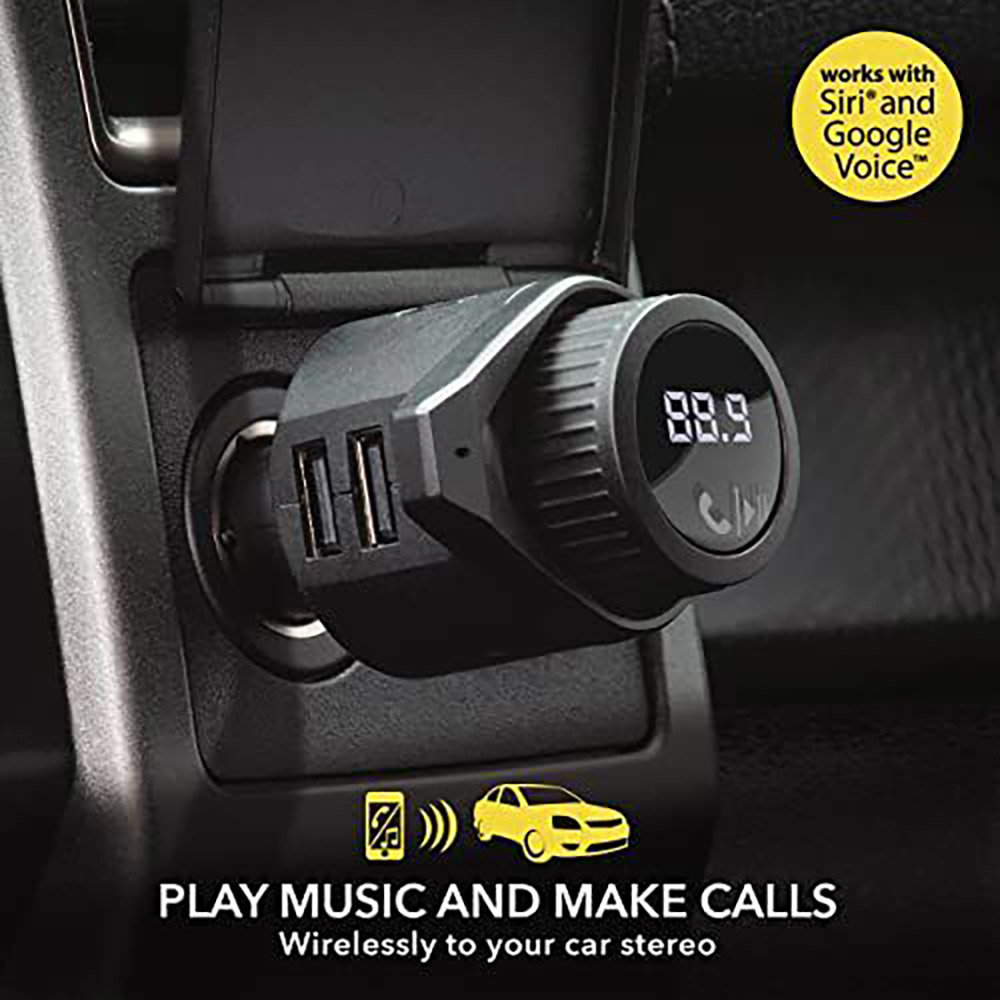 Hands-free calling via Bluetooth
With the built-in microphone and Bluetooth capabilities, the Scosche BTFreq allows you to make and receive phone calls - providing a hands-free solution for your conversations when in the car for your safety and convenience. Don't risk losing control of the steering wheel or breaking the law by holding a phone up to your ear, instead using the BTFreq to make and receive calls - all through your car's stereo system.
Integrated LCD display and playback controls
The crystal-clear built-in LCD display on the Scosche BTFreq Transmitter simplifies the setup process, allowing you to easily and clearly see what frequency you're tuned into. What's more, the BTFreq FM transmitter features built-in controls which not only control your tracks, but your calls too.
Charge your device while you drive
Using your existing USB charging cables, you can plug your USB charging compatible device into the aux port for extra juice. Never be without power, so you can make that important phone call or for power intensive location apps including using your phone as a sat nav. With 2.1A power output, your phones will charge quickly. This port is even powerful enough to charge tablets.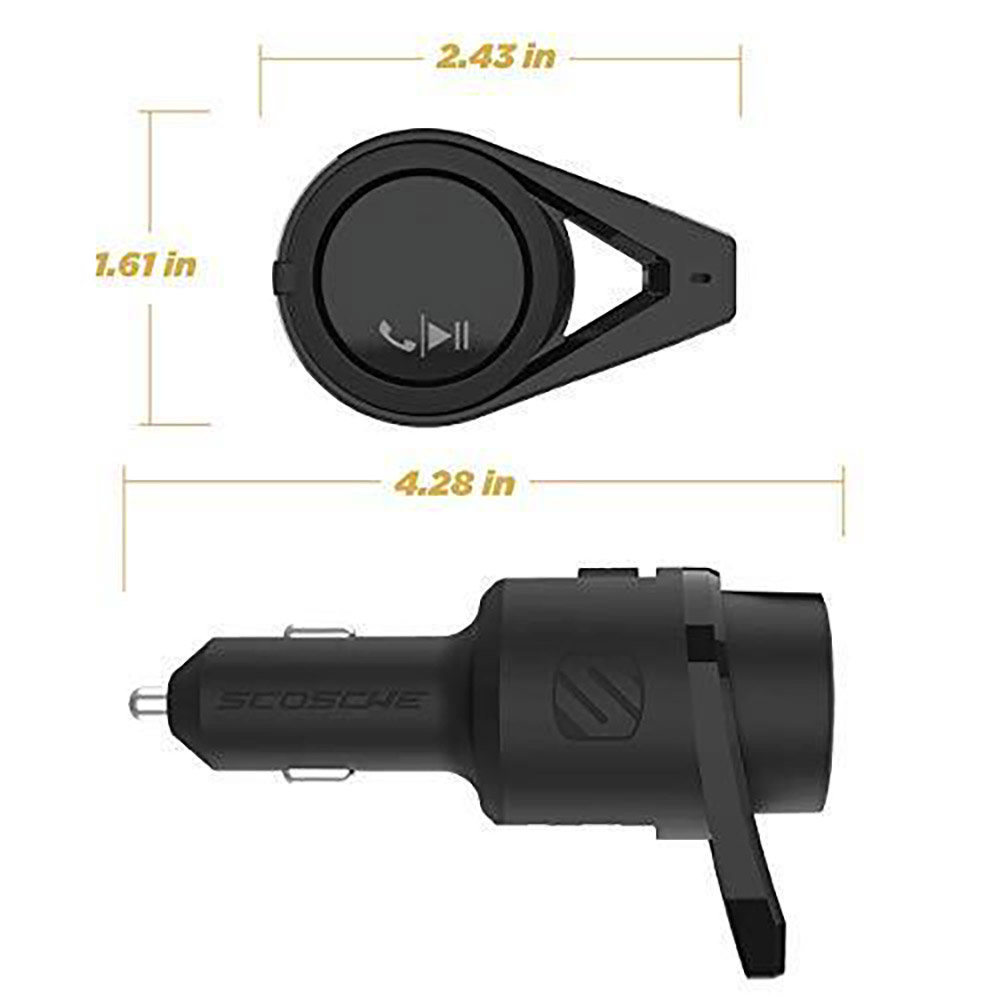 Compatible with all popular music services including Spotify and YouTube
With music streaming services becoming more and more popular, you are able to play your music through the Scosche BTFreq Car Kit even when using Spotify, YouTube, Apple, Deezer and other audio services.
Detalles Clave
| | |
| --- | --- |
| Part No | BTFM5 |
| UPC | 0033991081000 |
| Referencia | 84475 |
| Color | Negro |
| Brand Name | Scosche |
Videos
Envío y Devoluciones
Envío ordinario 4,50€
Lo entregará su cartero habitual. Si entra en el buzón se depositará ahí, sino se le dejará el papel amarillo para que pase a buscarlo por la oficina de Correos correspondiente. No incluye número de seguimiento. El plazo de entrega aproximado es de 6 a 8 días laborables (de Lunes a Viernes).
DHL 24/48h 26,99€
Lo entregará DHL Express. Incluye número de seguimiento y se solicitará firma. El repartidor siempre lo entregará en mano y suele llamar antes de realizar la entrega. El plazo de entrega suele ser de 24h, excepto en localidades más apartadas que son 48h (de Lunes a Viernes).
Si tu pedido es menos de 150€ (sin incluir gastos de envío), el IVA ya está incluido en el precio que sale a la hora de realizar el pedido. No habrá portes adicionales a la hora de entregar el pedido. Para más informaciones, ver la sección de información de envío.


Nota:
Los tiempos estimados de llegada se toman directamente de la información proporcionada por nuestros mensajeros. Estas son solo estimaciones, MobileFun no es responsable si esto varía. Todos los productos se envían desde nuestro almacén en el Reino Unido. Artículos faltantes o retrasados: tenga en cuenta que tendremos que esperar 20 días hábiles antes de poder rastrear, reemplazar o reembolsar los artículos perdidos. El Servicio de Correo no estará disponible para pedidos de alto valor, se aplicará el método de Envío Express.
Negativa a pagar cargos - Política de devoluciones
Si se niega a pagar los derechos de importación o el IVA recaudado sobre su envío, esto puede resultar en que el envío sea devuelto a Mobile Fun. En este caso, todos los cargos de devolución relacionados más un cargo mínimo de administración de £ 5.00 (o moneda equivalente al tipo de cambio actual) se cargarán contra el monto final de su reembolso.