PopSocket Universal 2-in-1 Stand & Grip - Black
Super-sleek, compact & convenient, this black expanding stick-on accessory for all smartphones props up your device so you don't have to. Simply stick the PopSocket to the back of your phone, pull outward & watch your favourite shows at the perfect angle
Otros clientes también compraron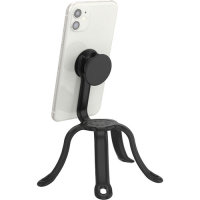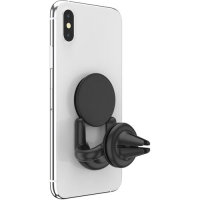 Key Features
2 essential accessories in 1 innovative, unique and super-functional package
Ingenious expanding and contracting design
Stand function for viewing media
Provides extra grip
Adds virtually no extra bulk
Compatible with many cases
Descripción
Once you've tried a PopSocket, you'll wonder why you never bothered with one before due to the extra added ease they add to your day. This sleek, black PopSocket not only props up your device, providing the perfect viewing angle for your shows but it also acts as another way to grip onto your phone, rather than having to stretch your hand across the whole device.
2 essential accessories in 1 innovative, unique and super-functional package
With PopSockets, you no longer need to choose between a desk stand and a grip for your device. PopSockets' grippy adhesive, robust construction and pop-and-collapse mechanism ensure that you'll always have an easy way to view media, check recipes, video call friends and more, as well as a handy way to take the pressure off your hands while you're holding your phone.
Ingenious expanding and contracting design
There really is nothing like PopSockets. All you have to do to take advantage of this wonderful item is attach it to the back of your phone, then pull outwards. Hey presto - your very own stand and grip. When you're done using PopSockets, simply press inwards and your mount contracts to maximise storage space and minimise bulk.
Stand function for viewing media
Working similar to many phone cases with a kickstand function - but entirely more versatile - PopSockets can be used in landscape or portrait orientation as a media viewing stand, perfect for those extended streaming service marathons. This is also ideal for keeping recipes close to hand while cooking, for example, or simply for keeping your device stable while typing.
Provides extra grip
PopSockets can also be used as a grip, taking the pressure off your hands while texting or talking. Now you don't need to worry about dropping your device while you're in the middle of an important conversation - the super-strong adhesive will keep your phone safe no matter what.
Adds virtually no extra bulk
Despite all this functionality, PopSockets barely take up any space on your device. Thanks to the contracting design, too, you can simply "fold away" your grip, ready to be expanded for next time you need it.
Compatible with many cases
The washable adhesive which PopSockets use is compatible with the majority of cases (some waterproof cases or silicone cases may not be compatible). Leave your protective case on your device and still enjoy all the benefits brought by PopSockets.
Detalles Clave
| | |
| --- | --- |
| Part No | 800470 |
| UPC | 0842978135083 |
| Referencia | 84627 |
| Color | Negro |
| Brand Name | PopSockets |
Envío y Devoluciones
Envío ordinario 4,50€
Lo entregará su cartero habitual. Si entra en el buzón se depositará ahí, sino se le dejará el papel amarillo para que pase a buscarlo por la oficina de Correos correspondiente. No incluye número de seguimiento. El plazo de entrega aproximado es de 6 a 8 días laborables (de Lunes a Viernes).
DHL 24/48h 26,99€
Lo entregará DHL Express. Incluye número de seguimiento y se solicitará firma. El repartidor siempre lo entregará en mano y suele llamar antes de realizar la entrega. El plazo de entrega suele ser de 24h, excepto en localidades más apartadas que son 48h (de Lunes a Viernes).
Si tu pedido es menos de 150€ (sin incluir gastos de envío), el IVA ya está incluido en el precio que sale a la hora de realizar el pedido. No habrá portes adicionales a la hora de entregar el pedido. Para más informaciones, ver la sección de información de envío.


Nota:
Los tiempos estimados de llegada se toman directamente de la información proporcionada por nuestros mensajeros. Estas son solo estimaciones, MobileFun no es responsable si esto varía. Todos los productos se envían desde nuestro almacén en el Reino Unido. Artículos faltantes o retrasados: tenga en cuenta que tendremos que esperar 20 días hábiles antes de poder rastrear, reemplazar o reembolsar los artículos perdidos. El Servicio de Correo no estará disponible para pedidos de alto valor, se aplicará el método de Envío Express.
Negativa a pagar cargos - Política de devoluciones
Si se niega a pagar los derechos de importación o el IVA recaudado sobre su envío, esto puede resultar en que el envío sea devuelto a Mobile Fun. En este caso, todos los cargos de devolución relacionados más un cargo mínimo de administración de £ 5.00 (o moneda equivalente al tipo de cambio actual) se cargarán contra el monto final de su reembolso.