PhoneSoap 3.0 UV Smartphone Sanitiser & Charger - Orchid
Introducing the PhoneSoap 3.0 phone sanitiser and phone charger in Orchid. Featuring UV lights, PhoneSoap 3.0 cleanses your phone from bacteria and viruses, while also having the capability of charging your phone at the same time.
Key Features
2-in-1 cleaning and charging for your smartphone
UV-C light for maximum germ-killing efficiency
Charge while you clean
99.9% effective at killing germs
No unsafe or hazardous cleaning materials
Just 10 minutes for a full clean
Acoustic outlets for alarms and notifications
Universal smartphone compatibility
Whatever fits inside will be sanitised
Descripción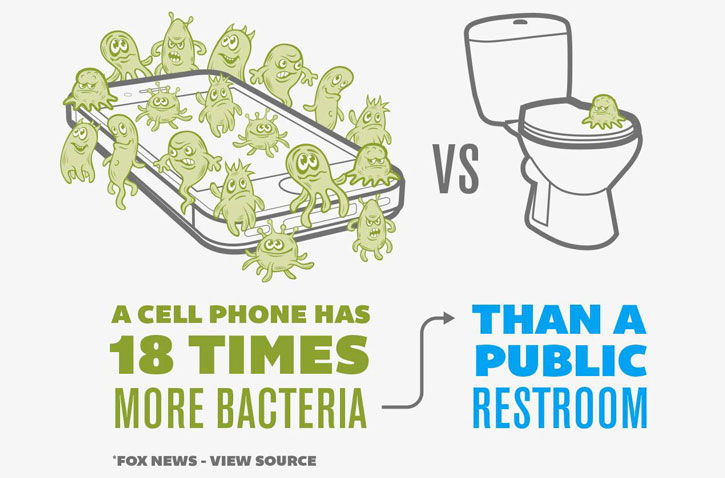 2-in-1 cleaning and charging for your smartphone
There are many products on the market that clean your phone. There are also many products that charge your phone. However, there are none that simultaneously offer both of these functions...until now. Meet PhoneSoap 3.0, a safe, convenient sanitiser that purges your phone of nasty germs and charges your device at the same time.
Enjoy the peace of mind PhoneSoap 3.0 offers, knowing your phone is not only as clean as it can possibly be, but fully charged and ready for your day too.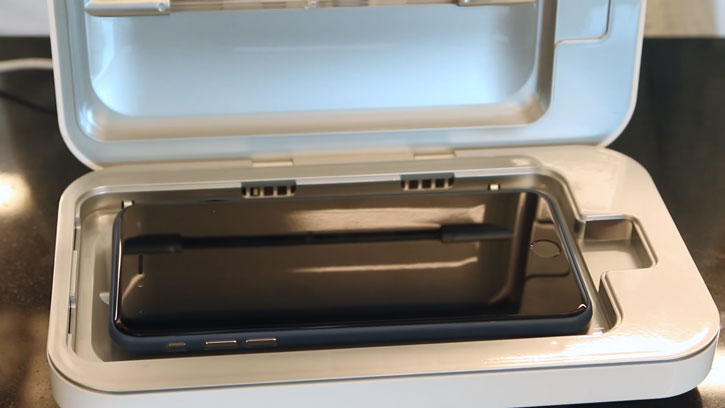 UV-C light for maximum germ-killing efficiency
PhoneSoap 3.0 features two UV-C lamps which produce a special light capable of penetrating the cell walls of bacteria and viruses, compromising their DNA and stopping their infection-causing potential in its tracks. Thanks to this unique method of cleansing, PhoneSoap 3.0 can also kill bugs and germs which have developed an immunity to traditional cleaning methods. Let the light shine through with PhoneSoap 3.0.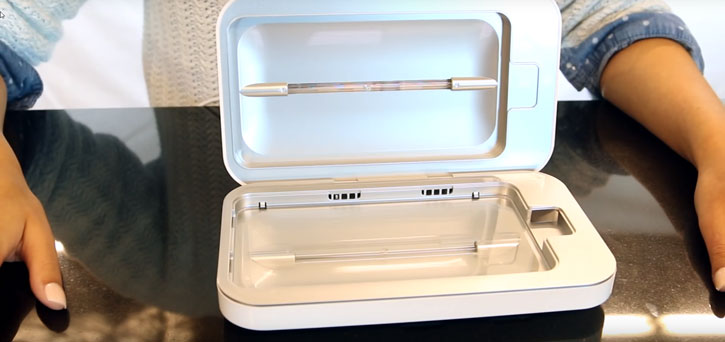 Charge while you clean
Cleaning your phone doesn't have to mean letting its battery drain thanks to PhoneSoap 3.0's pass-through port for cables. Simply plug your phone's USB cable into the 5V USB port on the PhoneSoap 3.0, then thread it through into the cleaning chamber and plug it into your phone.
Since the PhoneSoap 3.0 uses your phone's original charging cables, you can be sure of true universal compatibility, so whatever device you have, it can be charged while undergoing sanitisation.
Please note: charging cables not included.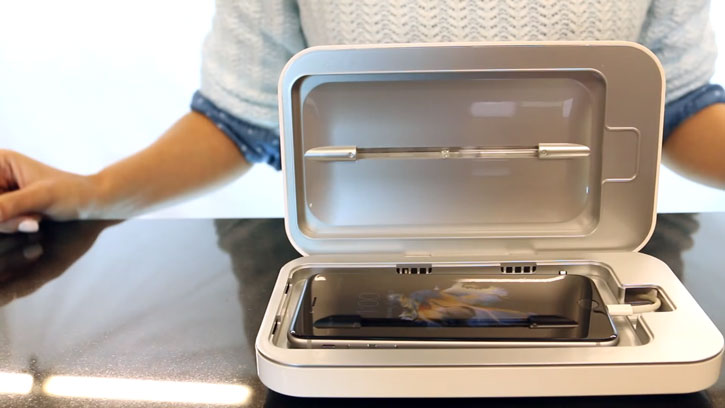 99.9% effective at killing germs
A smartphone can have up to 18 times more bacteria on it than a public toilet, so the importance of cleaning your phone is both under-reported and paramount. Thankfully, PhoneSoap 3.0's UV cleaning method is effective at killing 99.9% of the germs on your phone, leaving it as squeaky-clean as the day you bought it, if not more so!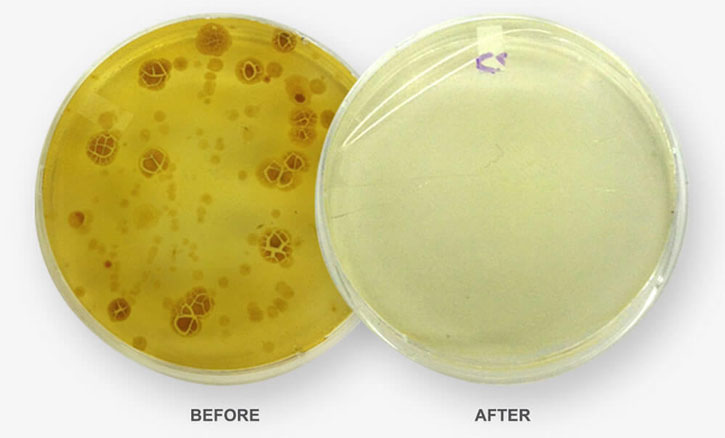 No unsafe or hazardous cleaning materials
PhoneSoap is the only 100% phone-safe method for getting rid of germs. It uses no heat, no liquid and no chemicals, so there's no chance of any damage to the vital components or ports of your precious smartphone.
Just 10 minutes for a full clean
You won't have to be without your phone for more than ten minutes, as that's all it takes for PhoneSoap 3.0 to complete a top-to-bottom clean of your phone. It's an efficient, quick and safe way to make sure your phone is pristine.
A blue LED indicator on the front of the device will let you know when the cleaning process is complete, so you can stay informed.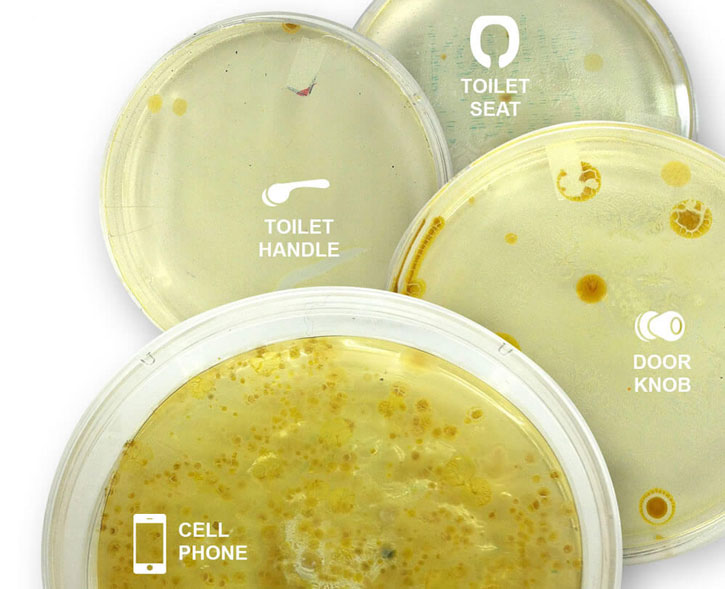 Acoustic outlets for alarms and notifications
You don't need to put your phone on silent for PhoneSoap 3.0 to do its thing. This sanitiser features unique acoustic outlets which allow you to hear your alarms and notification tones just as you would normally. You never need to lose any of your phone's vital functionality while it's under the PhoneSoap cleaning process.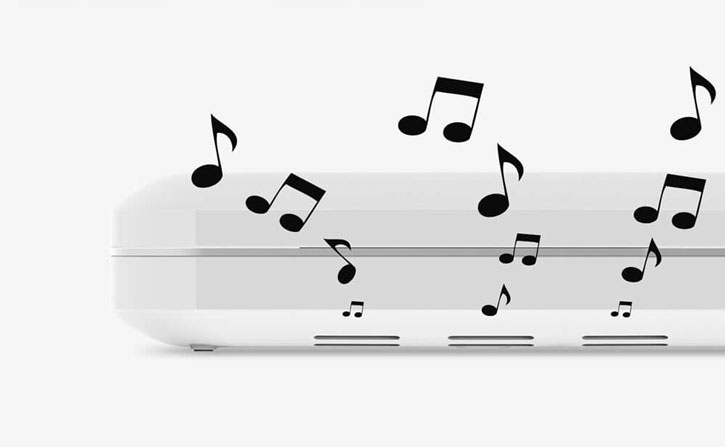 Universal smartphone compatibility
From the smallest to the largest smartphones, PhoneSoap 3.0 has been designed to accommodate virtually every single device on the market. This means that no matter the age, model or make of your device, you can be sure PhoneSoap 3.0 will leave your phone sparkling.
Whatever fits inside will be sanitsed
What's more, the PhoneSoap 3.0 isn't just limited to phones. Anything that fits in the device can be cleaned, from credit cards to coins to keys and even smartwatches. If it fits, it cleans!
Detalles Clave
| | |
| --- | --- |
| Part No | PS500-3O |
| UPC | 0635909961611 |
| Referencia | 80827 |
| Color | Amarillo |
| Brand Name | PhoneSoap |
Envío y Devoluciones
Envío ordinario 4,50€
Lo entregará su cartero habitual. Si entra en el buzón se depositará ahí, sino se le dejará el papel amarillo para que pase a buscarlo por la oficina de Correos correspondiente. No incluye número de seguimiento. El plazo de entrega aproximado es de 6 a 8 días laborables (de Lunes a Viernes).
DHL 24/48h 29,50€
Lo entregará DHL Express. Incluye número de seguimiento y se solicitará firma. El repartidor siempre lo entregará en mano y suele llamar antes de realizar la entrega. El plazo de entrega suele ser de 24h, excepto en localidades más apartadas que son 48h (de Lunes a Viernes).
Si tu pedido es menos de 150€ (sin incluir gastos de envío), el IVA ya está incluido en el precio que sale a la hora de realizar el pedido. No habrá portes adicionales a la hora de entregar el pedido. Para más informaciones, ver la sección de información de envío.
Negativa a pagar cargos - Política de devoluciones
Si se niega a pagar los derechos de importación o el IVA recaudado sobre su envío, esto puede resultar en que el envío sea devuelto a Mobile Fun. En este caso, todos los cargos de devolución relacionados más un cargo mínimo de administración de £ 5.00 (o moneda equivalente al tipo de cambio actual) se cargarán contra el monto final de su reembolso.