Olixar Universal Stand, Stylus and Microfiber Cleaner Keyring - 3 Pack
The All-in-One Stylus, Stand and Microfibre Cleaner 3 pack in black is suitable for all capacitive touchscreen devices - reducing fingerprints while also acting as a portable smartphone stand and even plugs into your headphone socket for portability.
Otros clientes también compraron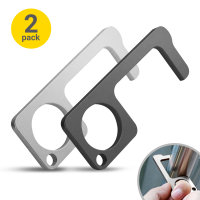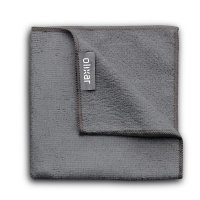 Key Features
All-in-one portable stylus, stand and microfibre cleaner
Stylus allows for easy and accurate typing
No-touch stylus to avoid touching screens
Reduce fingerprints
Lightweight and portable
Non-scratch, durable rubber tip
Attach to your fridge and other magnetic surfaces
Easy to use - no battery or software required
Suitable for all capacitive touchscreen devices
Descripción
All-in-one portable stylus, stand and microfibre cleaner
We all love portable gadgets and this is one that will take some beating! Introducing the ultra compact All-in-One Stylus, Stand and Microfibre Cleaner 3 pack - designed to be extremely portable so you can carry it around with you all of the time. If you ever need a stylus, smartphone stand or microfibre cleaner - this is the item for you!
Stylus allows for easy and accurate typing
Navigate your device's apps and imitate many of its supported gestures with a stylus, allowing you to enjoy more control and accurate typing via the on-screen keyboard. Lightweight and extremely portable, the All-in-One Stylus, Stand and Microfibre Cleaner can easily be carried with you wherever you go and is comfortable to use for extended periods of time.
With the use of a stylus, on-screen fingerprints and smudges will be significantly reduced - improving screen clarity. This enables you to use your capacitive smartphone screen for a far longer period of time without becoming frustrated, due to you having to stop and clean the display. With its non-scratch and durable rubber tip, you can be assured the stylus will not harm your beautiful phone display.
No-touch stylus to avoid touching screens
The built in stylus can also be used as a no-touch tool to prevent coming into contact with bacteria infested surfaces, such as public touchscreens. By doing so, you'll be able to eliminate any physical contact.

Microfibre cleaning pad
When not using the featured stylus of this great all-in-one tool, fingerprints will no doubt become a problem - obscuring the beauty of your phone's display with unsightly smudges. Fear not, as this superb all-in-one tool features a Microfibre cleaning pad, that can wipe your screen free of these annoying distractions.

Smartphone stand
With this portable all-on-one, you can rest your smartphone on the featured stand so you can view media content hands-free wherever you are. All you need is a suitable flat surface to rest the all-in-one tool on, flip up the stand feature and position your smartphone in landscape mode.
The featured stand is ideal for watching videos, viewing photos, listening to music or taking part in Skype or other VoIP video call software.

Headphone socket attachment
For even greater portability, the All-in-One Stylus, Stand and Microfibre Cleaner includes a headphone socket attachment. This allows you to connect the all-in-one tool to your smartphone's headphone socket so it will always be within reach.
Detalles Clave
| | |
| --- | --- |
| Part No | OLX-81788 |
| UPC | 5056208154934 |
| Referencia | 81788 |
| Color | Negro |
| Brand Name | Olixar |
Envío y Devoluciones
Envío ordinario 4,50€
Lo entregará su cartero habitual. Si entra en el buzón se depositará ahí, sino se le dejará el papel amarillo para que pase a buscarlo por la oficina de Correos correspondiente. No incluye número de seguimiento. El plazo de entrega aproximado es de 6 a 8 días laborables (de Lunes a Viernes).
DHL 24/48h 26,99€
Lo entregará DHL Express. Incluye número de seguimiento y se solicitará firma. El repartidor siempre lo entregará en mano y suele llamar antes de realizar la entrega. El plazo de entrega suele ser de 24h, excepto en localidades más apartadas que son 48h (de Lunes a Viernes).
Si tu pedido es menos de 150€ (sin incluir gastos de envío), el IVA ya está incluido en el precio que sale a la hora de realizar el pedido. No habrá portes adicionales a la hora de entregar el pedido. Para más informaciones, ver la sección de información de envío.


Nota:
Los tiempos estimados de llegada se toman directamente de la información proporcionada por nuestros mensajeros. Estas son solo estimaciones, MobileFun no es responsable si esto varía. Todos los productos se envían desde nuestro almacén en el Reino Unido. Artículos faltantes o retrasados: tenga en cuenta que tendremos que esperar 20 días hábiles antes de poder rastrear, reemplazar o reembolsar los artículos perdidos. El Servicio de Correo no estará disponible para pedidos de alto valor, se aplicará el método de Envío Express.
Negativa a pagar cargos - Política de devoluciones
Si se niega a pagar los derechos de importación o el IVA recaudado sobre su envío, esto puede resultar en que el envío sea devuelto a Mobile Fun. En este caso, todos los cargos de devolución relacionados más un cargo mínimo de administración de £ 5.00 (o moneda equivalente al tipo de cambio actual) se cargarán contra el monto final de su reembolso.