Olixar Headrest Mounted Multifunctional Food & Drink Storage Tray for Cars
The Olixar car seat headrest tray securely attaches to your headrest, providing you & your family with a useful place to keep your food & drink. With 2 cup holders, a phone slot & a snack tray, this tray will fit all you need & more on your journey!
Otros clientes también compraron
Key Features
Securely attaches to your headrest, to stay stable on your adventure
Contains two cup holders, a snack slot, a phone holder and a base tray
Easily folds up when not in use
Stops spills from ruining a long car journey
Descripción

Never have to worry about having no room for your drinks & snacks whilst you drive with this high-quality, durable & sturdy multipurpose tray from Olixar. The tray securely attaches to your car headrest, keeping your food and drink secure until you need them! With this Olixar tray, you'll never have to be messing about looking for where your biscuit fell to, or having to hold your drink between your legs for the whole journey; you'll have a comfortable place to place all your car journey must haves - whether that's your iPad for watching movies, your snacks or your book. Have it all in one place with Olixar.
Securely attaches to your headrest, to stay stable on your adventure
This cup holder mount can securely attach to your headrest! It's super easy and fast to attach, meaning no time is wasted setting the cup holder up and more time can be spent on your adventure! Once attached, the tray can be folded up until you need it.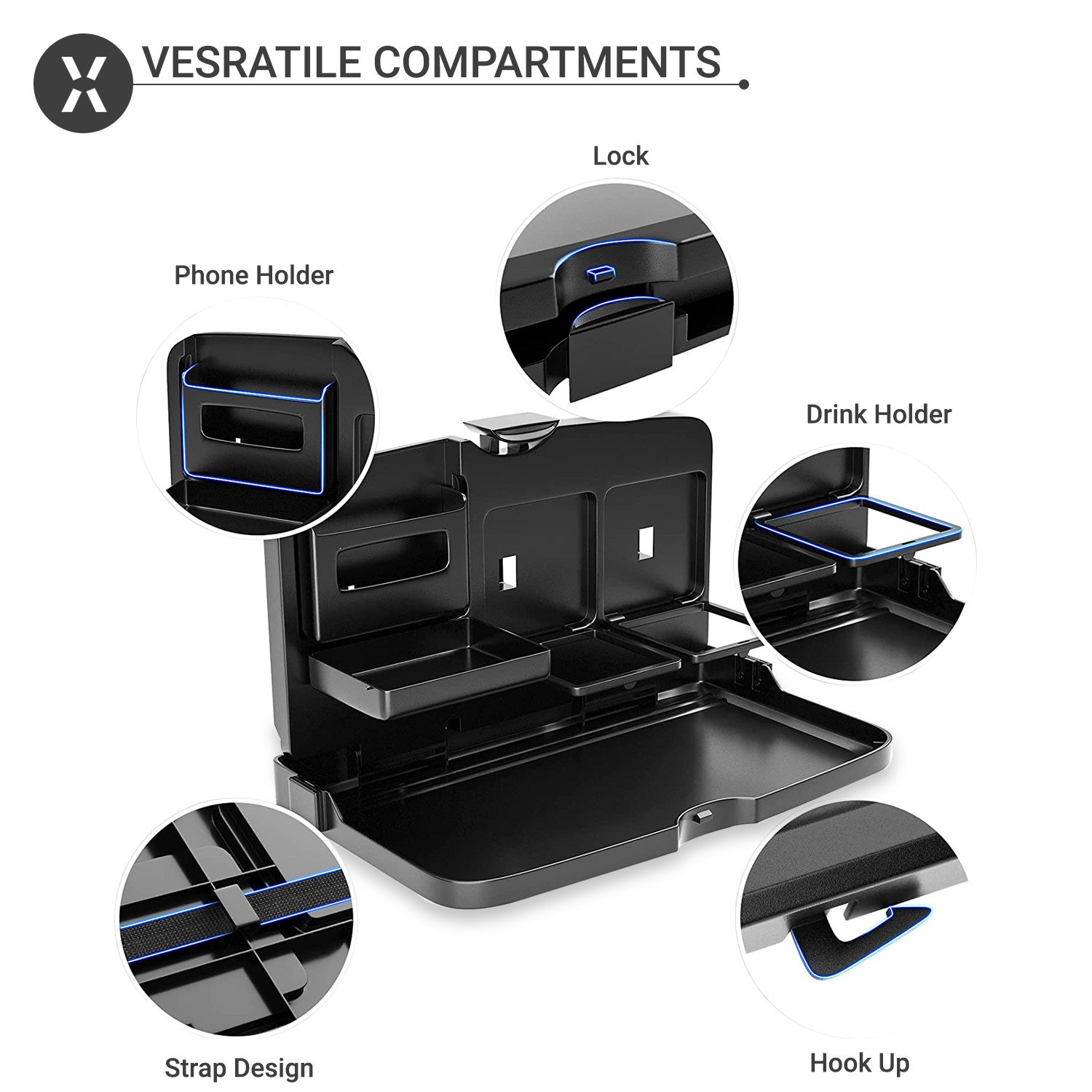 Two cup holders, that can also double as a phone holder whilst you eat!
This comes with two holders, rather than one; meaning you can have two drinks secure! No more fighting over whose drink has to be balanced on the floor, instead be able to place both in one with Olixar.
Not only does it have 2 cup holders, it also comes with a useful phone holder to put your phone away whilst you eat or nap, a little snack slot to keep your chocolate and biscuits to yourself (hidden away from others so they can't steal them) and even with all of this, there is still room on the base tray to put down your sandwiches or even your iPad to comfortably watch a movie whilst you're on the go.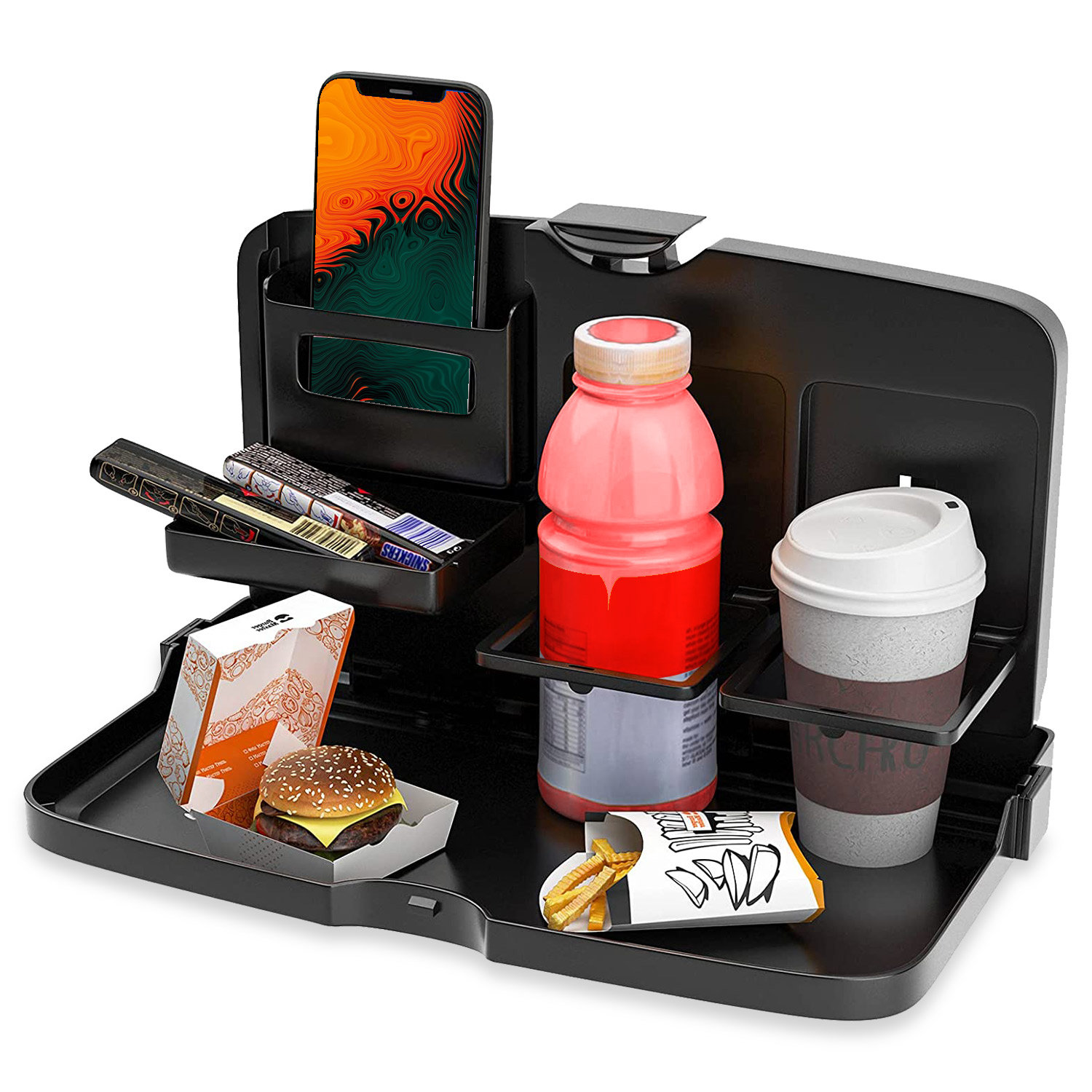 Easily folds up when not in use
As a safety precaution, when this is not in use, it can easily fold up so it stops taking up unnecessary room in your car.
Stops spills from ruining a long car journey
Car journeys can be a lot of things; boring, uncomfortable, long. With Olixar, we want to minimise this discomfort by providing an extra accessory to make your journey easier! With 2 drink holders, you can securely keep your drinks safe until you need another sip!
Detalles Clave
| | |
| --- | --- |
| Part No | OLX-85761 |
| UPC | 5056208176004 |
| Referencia | 85761 |
| Color | Negro |
| Brand Name | Olixar |
Envío y Devoluciones
Envío ordinario 4,50€
Lo entregará su cartero habitual. Si entra en el buzón se depositará ahí, sino se le dejará el papel amarillo para que pase a buscarlo por la oficina de Correos correspondiente. No incluye número de seguimiento. El plazo de entrega aproximado es de 6 a 8 días laborables (de Lunes a Viernes).
DHL 24/48h 26,99€
Lo entregará DHL Express. Incluye número de seguimiento y se solicitará firma. El repartidor siempre lo entregará en mano y suele llamar antes de realizar la entrega. El plazo de entrega suele ser de 24h, excepto en localidades más apartadas que son 48h (de Lunes a Viernes).
Si tu pedido es menos de 150€ (sin incluir gastos de envío), el IVA ya está incluido en el precio que sale a la hora de realizar el pedido. No habrá portes adicionales a la hora de entregar el pedido. Para más informaciones, ver la sección de información de envío.


Nota:
Los tiempos estimados de llegada se toman directamente de la información proporcionada por nuestros mensajeros. Estas son solo estimaciones, MobileFun no es responsable si esto varía. Todos los productos se envían desde nuestro almacén en el Reino Unido. Artículos faltantes o retrasados: tenga en cuenta que tendremos que esperar 20 días hábiles antes de poder rastrear, reemplazar o reembolsar los artículos perdidos. El Servicio de Correo no estará disponible para pedidos de alto valor, se aplicará el método de Envío Express.
Negativa a pagar cargos - Política de devoluciones
Si se niega a pagar los derechos de importación o el IVA recaudado sobre su envío, esto puede resultar en que el envío sea devuelto a Mobile Fun. En este caso, todos los cargos de devolución relacionados más un cargo mínimo de administración de £ 5.00 (o moneda equivalente al tipo de cambio actual) se cargarán contra el monto final de su reembolso.