Olixar GaN USB-A & 2 USB-C Ports PD 65W Super Fast Wall Charger- Black
Be able to super-fast charge any USB-A & USB-C compatible devices including laptops, tablets & phones on one wall charger with this 3 Port GaN PD charger from Olixar. GaN is more efficient & heats up less meaning it charges faster & lasts longer!
Key Features
All the power capabilities of a normal charger in a smaller size
Fast and convenient charging for 3 of your devices
Compact and convenient design
More power, more quickly
Outstanding compatibility
Long lasting due to high-efficiency
Descripción
Take your charging to the next level with this stunning, Olixar GaN USB-C & USB-A PD charger. It brings the convenience of fast, powerful, and safe charging into an ultra-compact design. Ideal for travel, home or office, you'll be able to charge your laptop, tablet, smartphone, or other USB-C devices all at once, with a single powerful charger! Invest now to save later with Olixar's high-quality, fast charging multi-port GaN charger.
All the power capabilities of a normal charger in a smaller size
Gallium nitride, or GaN, is a material that's used for semiconductors in chargers. Its crystal-like material is capable of conducting far higher voltages, whilst producing less heat due to being so efficient. Less heat means components can be closer together, so a charger can be smaller than ever before—while maintaining all the power capabilities and safety standards!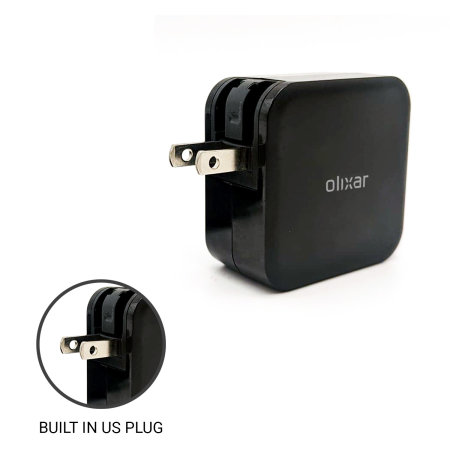 More Power, More Quickly
Compact design and convenience come together with the Olixar GaN USB-C / USB-A PD Wall Charger, with 3 super-fast charging ports. Incredibly lightweight, utilising fast GaN PD charging technology in a compact portable design. The Olixar Wall Charger will deliver the maximum power required whilst charging USB-C & USB-A devices as well as featuring faster charging than your standard 1Amp charger for your devices.
2 USB-C Charging Ports
Have an iPhone, Android or Pixel device? You can fast charge them at once using the 2 USB-C Charging ports! All you need is a compatible USB-C to C cable for Android & Pixel devices or iPads / other tablets or a USB-C to Lightning for iPhones. This can even work to fast charge Kindles, Nintendo Switches & gaming controllers (like a PS5 controller).
1 USB-A Charging Port
This USB-A port can be used to charge any USB-A to USB-A or USB-A to USB-C compatible device, including the majority of phones, tablets, laptops and MacBooks! Whatever your device, be able to fast charge it with Olixar.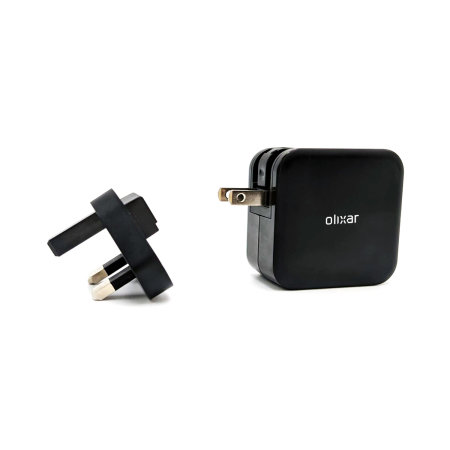 Compact, Convenient Design
The Olixar GaN Charger takes being compact to the next level! The durable, sleek, black design making it perfect for putting it in your bags and for storage to take with you on your travels. Not only this, but the compact design allows the plug to fit into tight spaces allowing you to gain maximum access to plugs and sockets.
Compatibility
The Olixar GaN Mains Charger is highly convenient in design allowing you to charge your devices quickly and conveniently. You can charge your phone along with other devices that charge via USB-C cable including Android, Google, Nokia & more, as well as your laptops, consoles, tablets and Macbooks! Fast charging capabilities are also available for your iPhone using a compatible USB-C to Lightning Cable.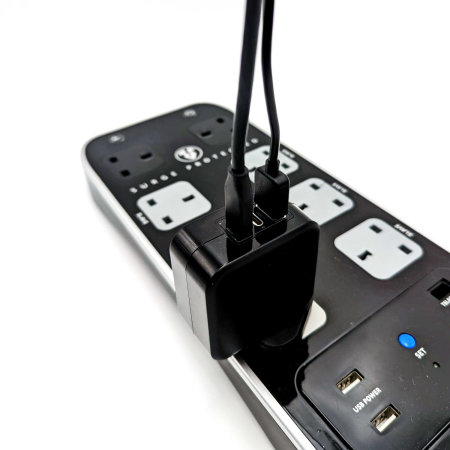 Long lasting due to high-efficiency
Heat is a major factor in determining how long electronic devices keep working, and chargers are no exception. The efficiency of GaN in transferring power keeps heat to a minimum, so a modern GaN charger will keep working for a lot longer than non-GaN chargers made even a year or two in the past.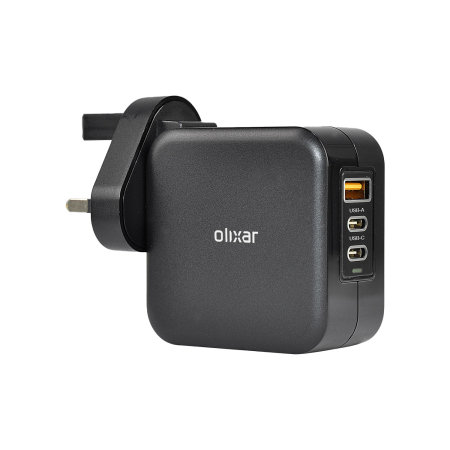 For more information on GaN chargers & the benefits, please read the blog here
Technical Specifications:
Input: 100-240V, 60Hz/50Hz, 1.5A Max
Output:
USB-A: 4.5V5A / 5V4.5A / 9V3A / 12V2.5A / 20V1.5A (Max 30W)
USB-C (C1 & C2): 5V3A / 9V3A / 12V3A / 15V3A/ 20V3.25A / 3.3-21V3A (Max 65W)
If using all 3 at once, max output it 63W.
Size: 58x58x31mm
Detalles Clave
| | |
| --- | --- |
| Part No | OLX-85220 |
| UPC | 5056208162649 |
| Referencia | 85220 |
| Color | Negro |
| Brand Name | Olixar |
Envío y Devoluciones
Envío ordinario 4,50€
Lo entregará su cartero habitual. Si entra en el buzón se depositará ahí, sino se le dejará el papel amarillo para que pase a buscarlo por la oficina de Correos correspondiente. No incluye número de seguimiento. El plazo de entrega aproximado es de 6 a 8 días laborables (de Lunes a Viernes).
DHL 24/48h 29,50€
Lo entregará DHL Express. Incluye número de seguimiento y se solicitará firma. El repartidor siempre lo entregará en mano y suele llamar antes de realizar la entrega. El plazo de entrega suele ser de 24h, excepto en localidades más apartadas que son 48h (de Lunes a Viernes).
Si tu pedido es menos de 150€ (sin incluir gastos de envío), el IVA ya está incluido en el precio que sale a la hora de realizar el pedido. No habrá portes adicionales a la hora de entregar el pedido. Para más informaciones, ver la sección de información de envío.
Negativa a pagar cargos - Política de devoluciones
Si se niega a pagar los derechos de importación o el IVA recaudado sobre su envío, esto puede resultar en que el envío sea devuelto a Mobile Fun. En este caso, todos los cargos de devolución relacionados más un cargo mínimo de administración de £ 5.00 (o moneda equivalente al tipo de cambio actual) se cargarán contra el monto final de su reembolso.