More accessories for Echo Spot:
Olixar Amazon Echo Spot Camera Cover - Privacy Slide - 3 Pack
Beat the hackers with this 3 pack of stainless steel webcam covers for your Amazon Echo Spot. Quickly gain or deny access to your devices' camera with this sliding cover. An easy low tech solution to a high tech problem.
Key Features
Your Echo Spot's camera can be hacked - get protected
Meet the solution to the problem
One size fits all devices - Laptops, Tablets and Smartphones
Stainless steel construction
Descripción
Your Echo Spot's camera can be hacked - get protected
None other than the former FBI director James Comey recently recommended that we all cover our webcams with tape for security reasons. Comey believes that doing so is a simple step for people to "take responsibility for their own safety and security."
Apparently he doesn't want to be spied on and really, who does? In questions during a conference at the Center for Strategic and International Studies, Comey revealed that cam-covering is commonplace at the FBI and other government offices. "It's not crazy that the FBI director cares about personal security as well," he added. "If you go into any government office, we all have our little camera things that sit on top of the screen, they all have a little lid that closes down on them. You do that so people who do not have authority don't look at you. I think that's a good thing."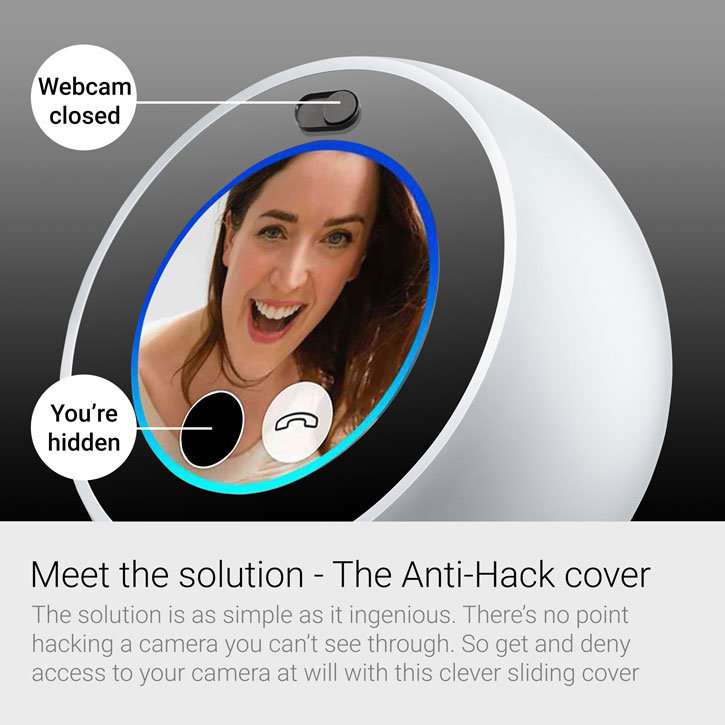 Comey is also quoted as saying he got the idea when he saw "somebody smarter" covering their webcam with tape - that somebody possibly being Facebook founder Mark Zuckerberg, who was also noted to have a piece if tape obscuring the camera on his laptop.
Well, if one of the most secure law enforcement agencies in the world are concerned, and also cutting edge tech companies, maybe we should all consider taking steps to increase our security and deny hackers access to all the many cameras our smart devices feature. You may think that you're not worthy of being targeted compared to global organisations and the rich and powerful but you would be amazed what gaps a camera can fill in when hackers are looking to steal information from you. They can potentially gain access to your digital identity and then from there... the possibilities are quite chilling.
CNN has also reported that hackers have been streaming private cameras from around the world, invading privacy and sharing the footage live on a publicly accessible website.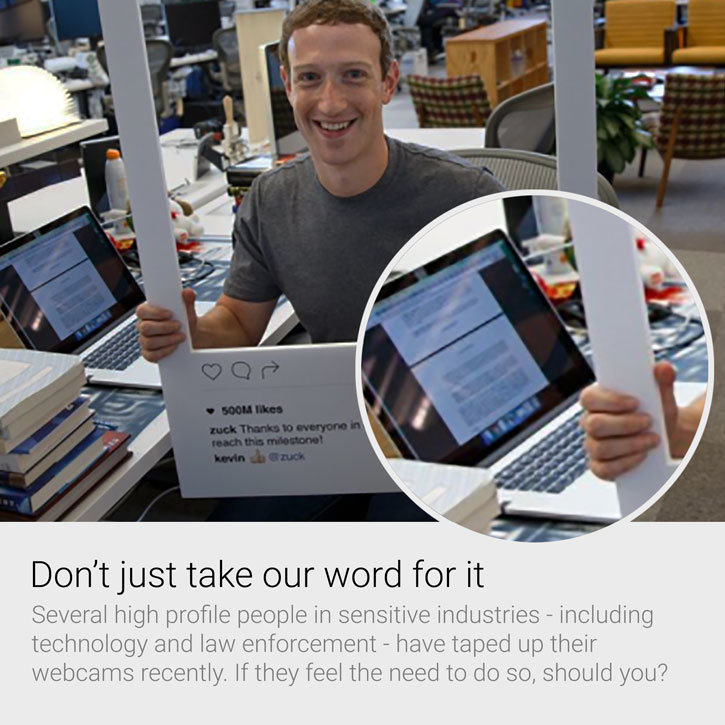 Meet the solution to the problem
You can use a piece of tape of course, but we think you can do a bit better than that. An expensive piece of technology like your Amazon Echo Spot needs something more elegant, functional and long-lasting than a piece of tape. That's why there's the Olixar Anti-Hack Webcam cover. This is a low tech solution to a high tech problem and the premise is as ingenious as it is simple. You can mount the cover in seconds using the adhesive 3M adhesive surface. Once in place, you can slide the cover over your camera to physically deny access to it, then quickly slide it back to gain access to it.
One size fits all devices - Laptops, Tablets and Smartphones
There are three covers in the pack and they are all the same size because they will all work with your smart portable webcam-equipped devices. With front facing webcams being of very similar size these covers will fit your laptops, tablets and smartphones.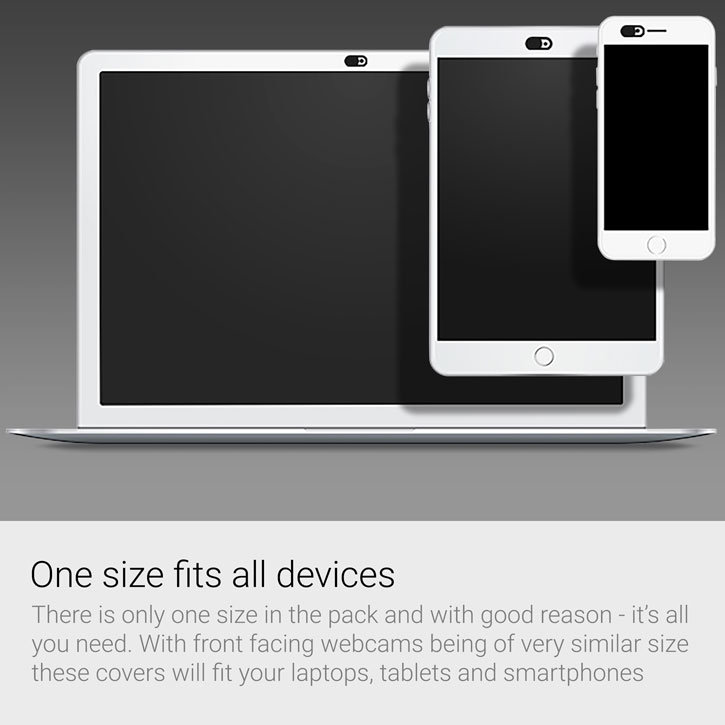 Stainless steel construction
The cover is made from high quality, sturdy and long-lasting stainless steel. It's thin and light enough to stay out of the way and add hardly any bulk to your devices. It will take as much punishment as your device in the event of any fall or impact.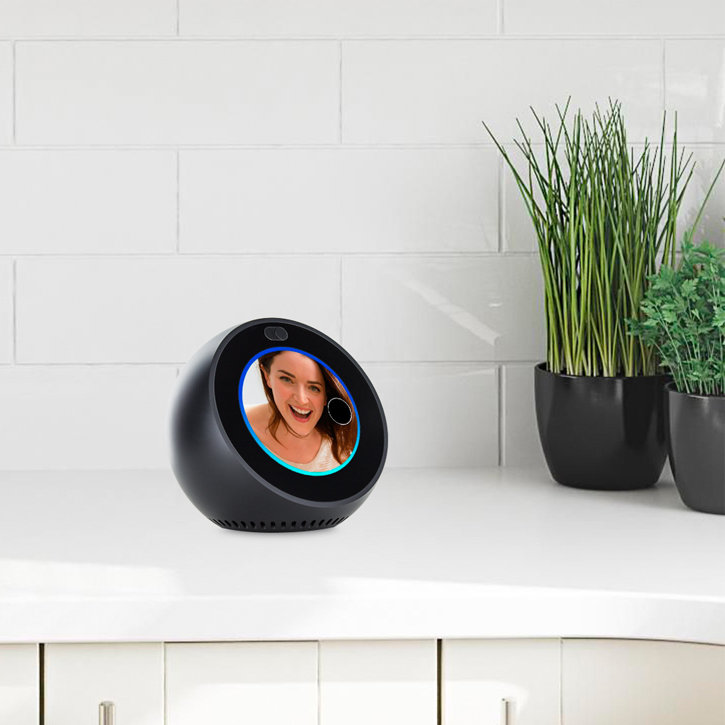 Detalles Clave
| | |
| --- | --- |
| Part No | olx-67365 |
| UPC | 5056208101549 |
| Referencia | 67365 |
| Color | Negro |
| Brand Name | Olixar |
Envío y Devoluciones
Envío ordinario 4,50€
Lo entregará su cartero habitual. Si entra en el buzón se depositará ahí, sino se le dejará el papel amarillo para que pase a buscarlo por la oficina de Correos correspondiente. No incluye número de seguimiento. El plazo de entrega aproximado es de 6 a 8 días laborables (de Lunes a Viernes).
DHL 24/48h 26,99€
Lo entregará DHL Express. Incluye número de seguimiento y se solicitará firma. El repartidor siempre lo entregará en mano y suele llamar antes de realizar la entrega. El plazo de entrega suele ser de 24h, excepto en localidades más apartadas que son 48h (de Lunes a Viernes).
Si tu pedido es menos de 150€ (sin incluir gastos de envío), el IVA ya está incluido en el precio que sale a la hora de realizar el pedido. No habrá portes adicionales a la hora de entregar el pedido. Para más informaciones, ver la sección de información de envío.
Negativa a pagar cargos - Política de devoluciones
Si se niega a pagar los derechos de importación o el IVA recaudado sobre su envío, esto puede resultar en que el envío sea devuelto a Mobile Fun. En este caso, todos los cargos de devolución relacionados más un cargo mínimo de administración de £ 5.00 (o moneda equivalente al tipo de cambio actual) se cargarán contra el monto final de su reembolso.
Compatibilidad