Olixar 15W Wireless Fast Charging Windscreen, Dash and In-Vent Auto-Clamping Car Holder
Place your phone against the Olixar 15W wireless car charger and see how it's automatically detected and locked into place. Designed to provide a seamless set-charge & driving experience, while your phone stays safely mounted and conveniently within view.
Key Features
Provides in-car wireless charging
3 mounting mechanisms to choose from
Fits devices up to 8cm wide
Designed for portrait and landscape orientations
Gravity clamping mechanism
Automatic closing device mounting
Universally compatible with wireless charging smartphones
Descripción

Provides in-car wireless charging
Designed for quick and intuitive charging, the Olixar 15W Wireless Charging Windscreen Dash And Vent Car Holder allow you to charge your Qi-compatible devices without the mess of charging cables. The car holder uses Qi induction technology to charge your phone quickly and easily once it is placed into the holder. Capable of delivering up to 15W of power wirelessly, the Olixar Wireless Car Charger can rapidly charge both Android and iPhone devices.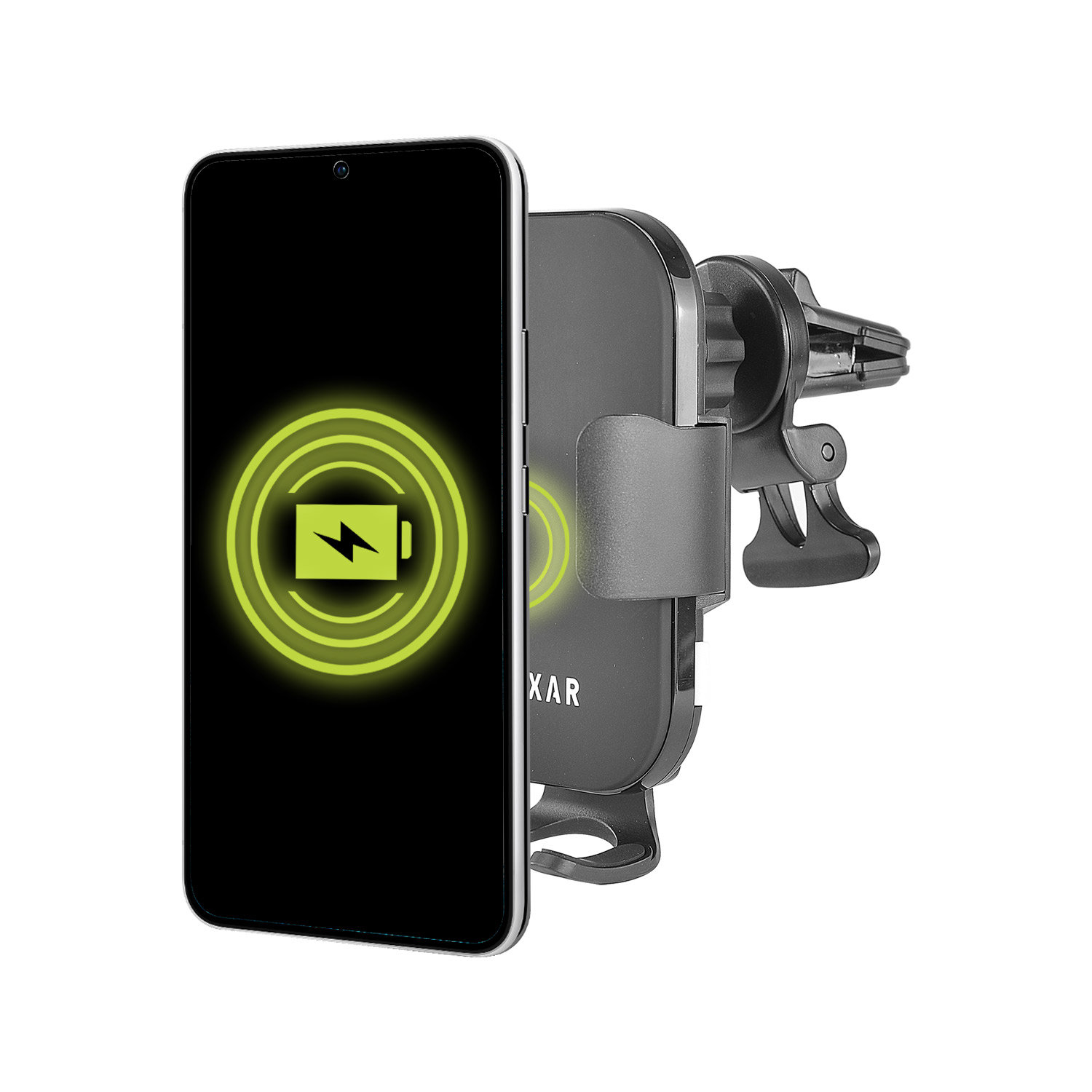 3 mounting mechanisms to choose from
You don't have to settle with Olixar ever again! Due to the design of this wireless car charger, you can choose from 3 different mounting options, it can be attached to your vent via the clamping system, on your dashboard using the suction mechanism, or on your windscreen. You can change your car, and get different makes but you can rest assured that your Olixar charger will fit your vehicle no matter the make.
Fits devices up to 8cm wide: such as the iPhone 13 Pro Max
This wireless charging car holder by Olixar fits any device up to an impressive 8cm width. This size easily accommodates devices such as the iPhone 13 Pro Max and S22 Ultra, which are some of the largest devices on the market today.
Designed for portrait and landscape orientations
The adjustable design of this Olixar wireless charging car holder allows you to position your handset on your car's vents in a vertical position for a more comfortable view of your handset while driving. With its ability to clearly display your device, the Olixar wireless charging car holder offers you the perfect view of your phone.
Gravity clamping mechanism
A built-in gravity switch that is connected to the bottom bracket of the charger gets triggered when the phone is placed on the charger and starts off the charging process. This will automatically trigger the side clamps and will auto-position your device on the charger
Automatic closing device mounting
The Olixar 15W car charger has been designed with both the device's and customers' satisfaction in mind. Not only does it present large non-slip side clamps but it also boasts bottom brackets, making sure that your device is completely safe and secure. The automatic closing function is realized through foreign object detection (FOD), the charger detecting the weight of your device when placed on it and automatically closing, allowing you to quickly and easily mount your device with just one hand.
Universally compatible with wireless charging smartphones
The Olixar 15W Wireless Charging Windscreen Dash And Vent Car Holder is universally compatible with all wirelessly charging-enabled devices. If your device does not support wireless charging, simply use a wireless charging adaptor with your device and enjoy your drive.
Please note: this will offer up to 15W charging, depending on your device; some devices may offer less - however, it will still charge any Qi-compatible device. Ensure a clean flat surface is used for optimum application of the suction cup.
Technical Specification:
Capacity: 15W, compatible with 10W / 7.5W / 5W
Input request:QC3.0
Input: 5V/2A, 9V/2A,12V/2A
Output:5V/1.0A, 9V/1.12A, 9V/1.67A
¿Qué contiene el paquete?
1 x 15W Wireless Charger
1 x USB Type-A-to-USB Type-C
1 x Air vent clamp
1 X Suction holder
Detalles Clave
| | |
| --- | --- |
| Part No | OLX-85581 |
| UPC | 5056208175502 |
| Referencia | 85581 |
| Color | Negro |
| Brand Name | Olixar |
Videos
Envío y Devoluciones
Envío ordinario 4,50€
Lo entregará su cartero habitual. Si entra en el buzón se depositará ahí, sino se le dejará el papel amarillo para que pase a buscarlo por la oficina de Correos correspondiente. No incluye número de seguimiento. El plazo de entrega aproximado es de 6 a 8 días laborables (de Lunes a Viernes).
DHL 24/48h 26,99€
Lo entregará DHL Express. Incluye número de seguimiento y se solicitará firma. El repartidor siempre lo entregará en mano y suele llamar antes de realizar la entrega. El plazo de entrega suele ser de 24h, excepto en localidades más apartadas que son 48h (de Lunes a Viernes).
Si tu pedido es menos de 150€ (sin incluir gastos de envío), el IVA ya está incluido en el precio que sale a la hora de realizar el pedido. No habrá portes adicionales a la hora de entregar el pedido. Para más informaciones, ver la sección de información de envío.


Nota:
Los tiempos estimados de llegada se toman directamente de la información proporcionada por nuestros mensajeros. Estas son solo estimaciones, MobileFun no es responsable si esto varía. Todos los productos se envían desde nuestro almacén en el Reino Unido. Artículos faltantes o retrasados: tenga en cuenta que tendremos que esperar 20 días hábiles antes de poder rastrear, reemplazar o reembolsar los artículos perdidos. El Servicio de Correo no estará disponible para pedidos de alto valor, se aplicará el método de Envío Express.
Negativa a pagar cargos - Política de devoluciones
Si se niega a pagar los derechos de importación o el IVA recaudado sobre su envío, esto puede resultar en que el envío sea devuelto a Mobile Fun. En este caso, todos los cargos de devolución relacionados más un cargo mínimo de administración de £ 5.00 (o moneda equivalente al tipo de cambio actual) se cargarán contra el monto final de su reembolso.