KSIX Flexylight Lamp Fast Charge Wireless Charger 10W With 4 Colours
DESCATALOGADO
- no disponible para comprar
The KSIX Flexylight Fast Charge Wireless Charger is the perfect pairing of strong flexible beautiful LED lighting and fast wireless charging! Charge your Phone with 10W wireless charging whilst also adding a touch of RGB colour to your room!
Key Features
10W fast wireless charging
4 colour lamp
Adjustable angle to rest your phone
Qi-compatible
Minimalist design
Descripción
The Flexylight Fast Charge Wireless Charger can charge a smartphone's battery without using any cables, while it adds a splash of colour thanks to the 4 colours LED lamp.
Provides Fast Wireless Charging For Your Qi-Enabled Phone
Designed for quick and intuitive fast charging, Qi Wireless Charging allows you to charge your Qi-enabled smartphone without the mess of charging cables at fast charging speeds. The KSIX Flexylight Lamp Fast Charge Wireless Charger 10W With 4 Colours uses Qi induction technology to charge your phone quickly and easily once it is placed onto the top of the KSIX wireless charger..

Simply place your Qi-enabled smartphone within the holder and watch as it begins charging without having to connect any wires to the phone.

Wireless fast charge for your Android and Apple devices
The KSIX Flexylight Lamp Fast Charge Wireless Charger 10W With 4 Colours has a fast transmission power mode of 7.5W or 10W - to adapt to all the devices compatible with wireless fast charge (Android and Apple). The fast charge mode allows charging devices 1.4 times faster than the standard wireless charging mode.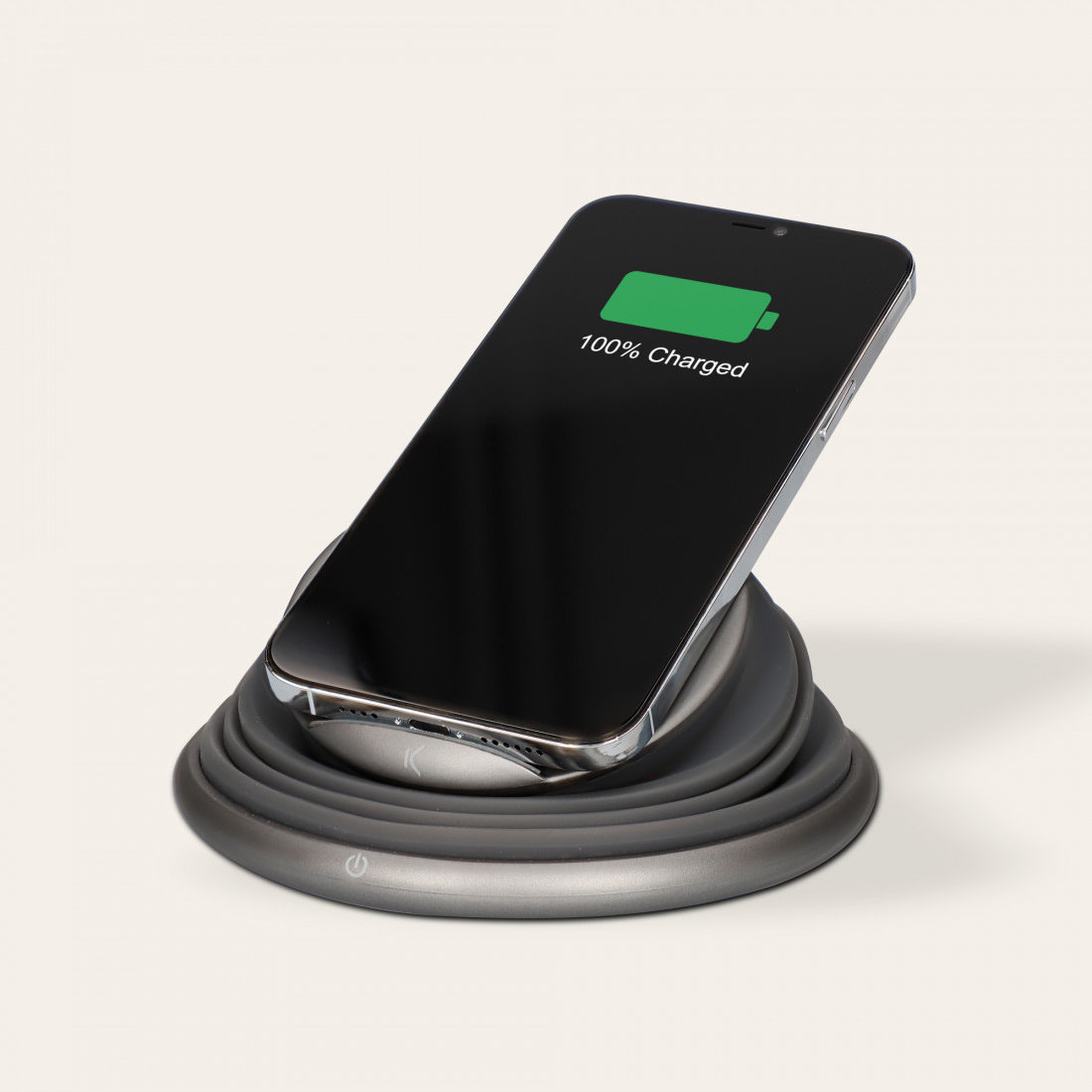 Note: The Qi charger will adapt the wireless charging to the standard mode (5W) for those QI compatible devices which don't allow the fast charging mode.
Adjustable design for the perfect angle!
The structure of the wireless charger is flexible and retractable making - allowing for the device to be charged in various different positions, giving you the most comfortable position. Due to the flexible nature of the product, this makes it perfect for travelling! Simply make the device as compact as it can go by pushing down on the flexible top, pop it into your backpack and you're ready to travel!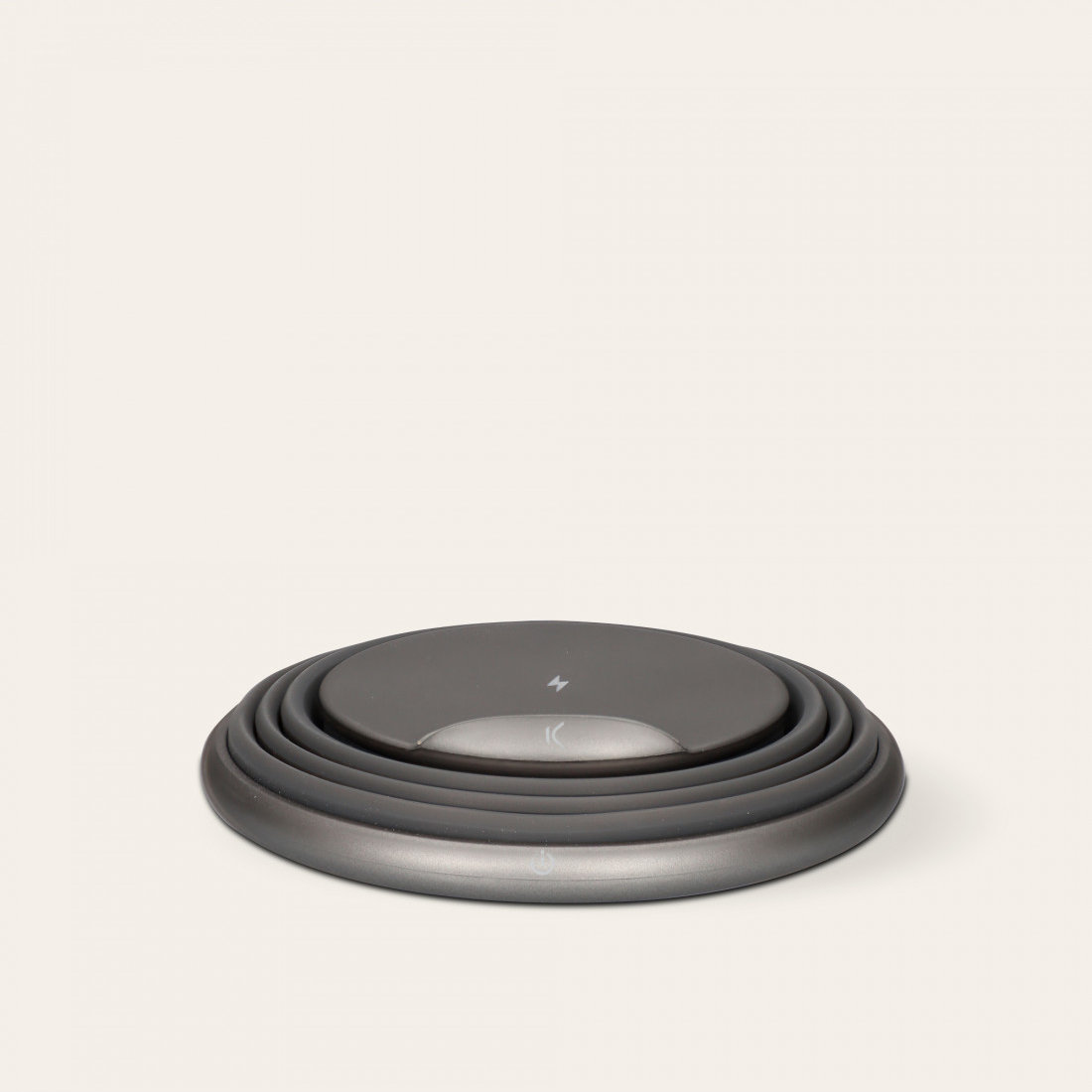 4 LED light colours to choose from
The Flexylight wireless charger is not just your standard wireless charger - but instead, a flexible colour changing LED light! Easily switch between 4 colours (white, blue, green and red) or chose the RGB mode and the light will change colour automatically!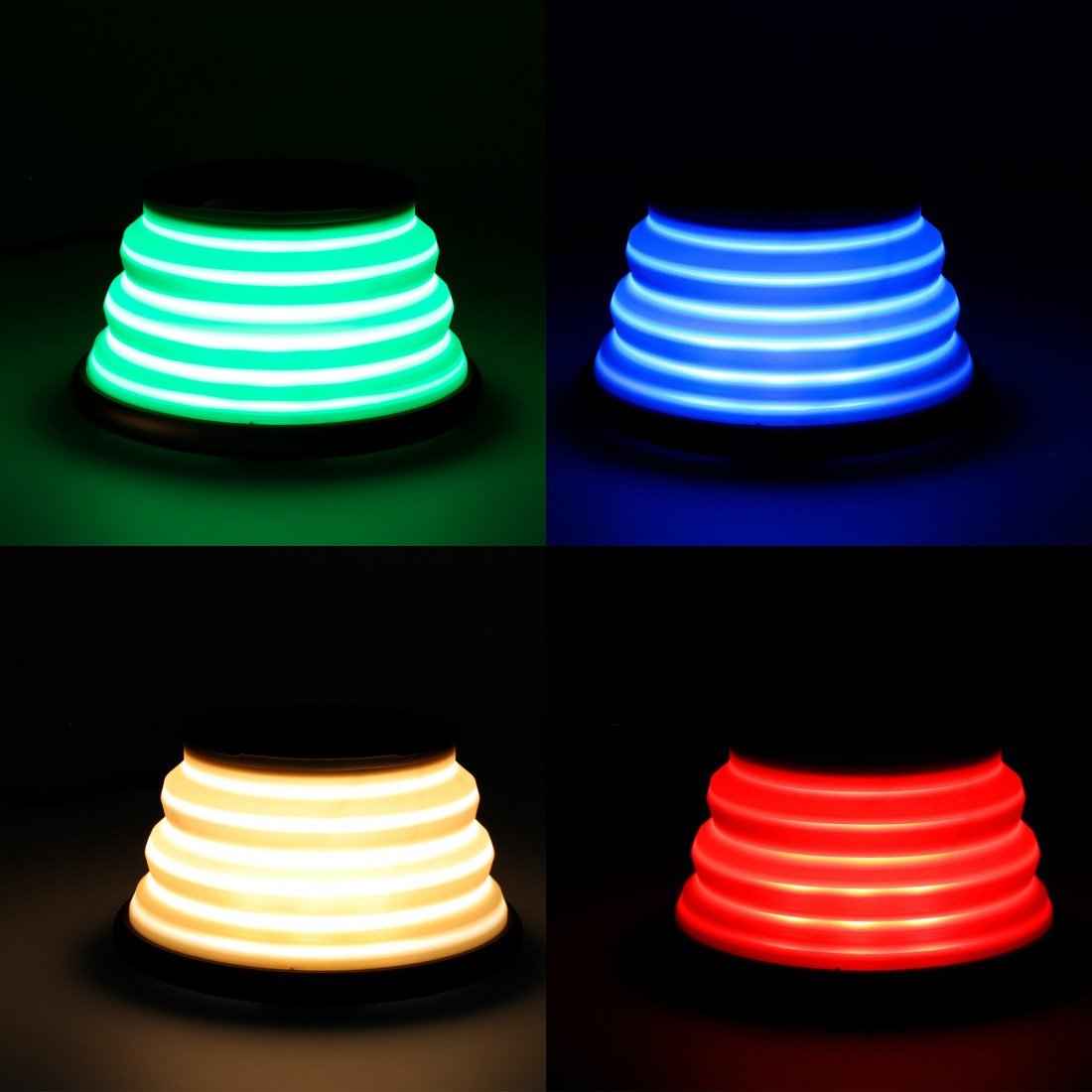 Specifications:
Wireless output power: 5W/7,5W/10W/15W
USB -A output: 5V/1A
2 coils: 1 coil*2
Charging distance: =8mm
Standard: Qi1.2.4
Charging efficiency: up to 80%
Connection ports: USB-C, USB-A
Heat dissipation: Built-in fan
LED panel as a status indicator
Date and time indicator
Alarm indicator
Temperature indicator
Material: ABS
Dimensions: 136.5 x 72.5 x 113mm
Weight: 174g (with fan)
Operating Temperature: -10?~45?
Storage temperature: -20?~85?

Technical information:
Fast Charge Flexylight Wireless Charger with 4 colors LED lamp
Input parameters: 5V-2A, 9V-1.67A
Wireless output power: 5W/7.5W (iPhone 8/iPhone 8 Plus/iPhone X)-10W
Charging efficiency: = 75%
Charging frequency: 110-205 KHz
Charging range: = 4 mm
Size: 13.5 cm in diameter X 2.5 cm in height
Weight: 163 g
Detalles Clave
| | |
| --- | --- |
| Part No | BXCQI08 |
| UPC | 8427542992136 |
| Referencia | 89380 |
| Color | Negro |
| Brand Name | KSix |
Envío y Devoluciones
Envío ordinario 4,50€
Lo entregará su cartero habitual. Si entra en el buzón se depositará ahí, sino se le dejará el papel amarillo para que pase a buscarlo por la oficina de Correos correspondiente. No incluye número de seguimiento. El plazo de entrega aproximado es de 6 a 8 días laborables (de Lunes a Viernes).
DHL 24/48h 29,50€
Lo entregará DHL Express. Incluye número de seguimiento y se solicitará firma. El repartidor siempre lo entregará en mano y suele llamar antes de realizar la entrega. El plazo de entrega suele ser de 24h, excepto en localidades más apartadas que son 48h (de Lunes a Viernes).
Si tu pedido es menos de 150€ (sin incluir gastos de envío), el IVA ya está incluido en el precio que sale a la hora de realizar el pedido. No habrá portes adicionales a la hora de entregar el pedido. Para más informaciones, ver la sección de información de envío.
Negativa a pagar cargos - Política de devoluciones
Si se niega a pagar los derechos de importación o el IVA recaudado sobre su envío, esto puede resultar en que el envío sea devuelto a Mobile Fun. En este caso, todos los cargos de devolución relacionados más un cargo mínimo de administración de £ 5.00 (o moneda equivalente al tipo de cambio actual) se cargarán contra el monto final de su reembolso.