iOttie 10W Easy One Touch 2 In-Car Wireless Charger Dash Mount - For Android and iPhone
Easily & safely wirelessly charge your device with this sleek & compact 10W iOttie One Touch Wireless 2 Dash/ Windscreen Mount. Securely position your phone with the suction cup, whilst knowing your device is charging safely & secure at your chosen angle!
Key Features
Provides in-car wireless charging for your Qi-enabled phone
U.S-patented Easy One Touch mechanism
Adjustable foot with a button
Telescopic, extendable arm
Suction cup to install
Sleek and compact design to match your handset
Descripción
Want to conveniently read Google Maps and charge your phone at the same time? Well, with this high-quality, sleek, charging mount from iOttie you can do just that! Fit your device to the wireless charger safely and use your device hands-free in the care! Be able to read directions safely whilst knowing your phone is safely charging.


Provides Fast In-Car Wireless-Charging For Your Qi-Enabled Phone
Designed for quick and intuitive fast charging, the iOttie Qi Wireless Charging Car Holder/Charger allows you to safely and quickly charge your Qi-enabled smartphone without the mess of charging cables. The iOttie car holder uses Qi induction technology to charge your phone quickly and easily once it is placed into the holder. For more information about wireless charging click the 'Wireless Charging Guide' banner above.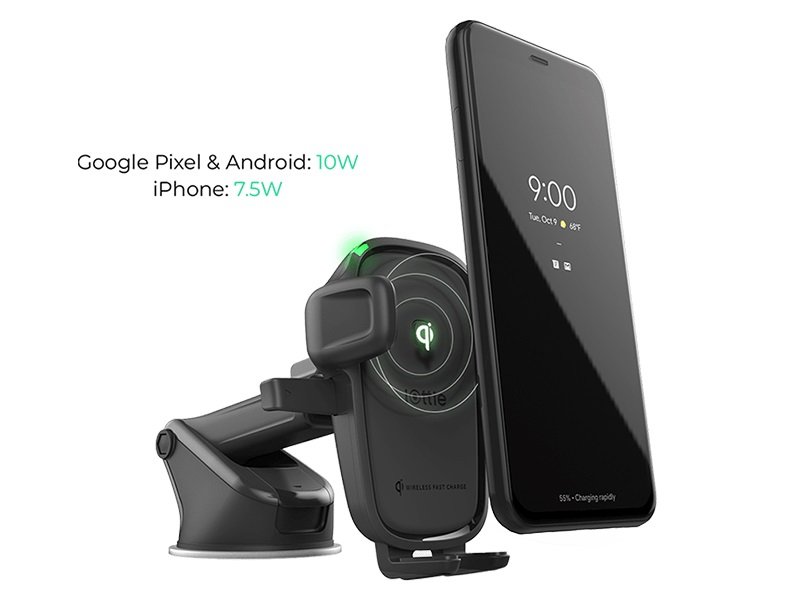 US patented Easy One Touch mechanism
This new Easy One Touch 2 technology has new patented technology, which offers a perfect one-handed motion, allowing you to safely focus on the road ahead - making road trips a breeze!
Adjustable Mount Size - Perfect For Every Device
The lower portion of the iOttie car mount is adjustable - allowing you to align your device for seamless wireless charging. Simply push the bottom (or foot of the mount) for a smaller device, or easily pull it down for a bigger device (up to 6.3") perfect for the pro and max devices of today's market!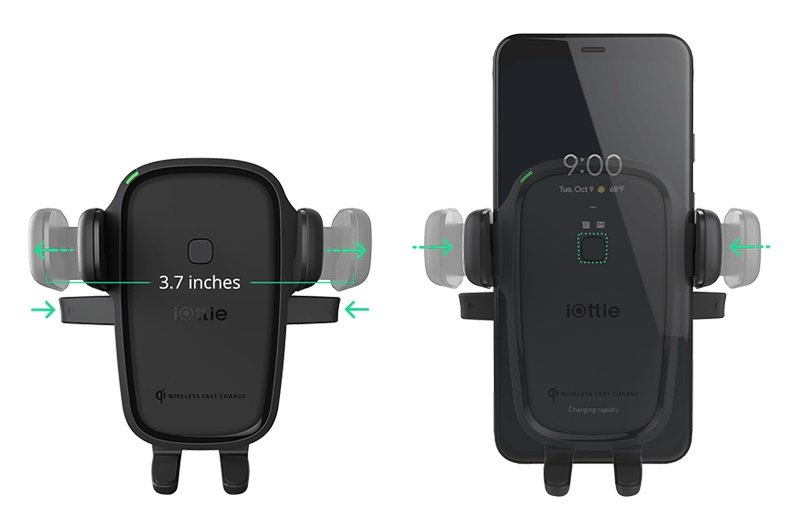 Telescopic Extendable Arm
Unlike other in-car phone mounts, the iOttie Easy One Touch 2 In-Car Wireless Charging Dash Mount features an extendable arm - which offers a 225-degree arc - allowing for a huge variety of optimal viewing angles! Not only that, but it also extends up to 8.3", meaning you can really have your phone in any position which suits you!
Easy To Install Suction cup
This mount attaches to your dashboard or windscreen through a super-strong suction cup. It is just as easy to remove as it is to install - if you've bought a new car, or just need to adjust the positioning, simply rise the suction cup with a small amount of water and lift it from the dash! When you're ready to reinstall the mount simply follow the easy instructions to stick it back to the dash and you're ready to go!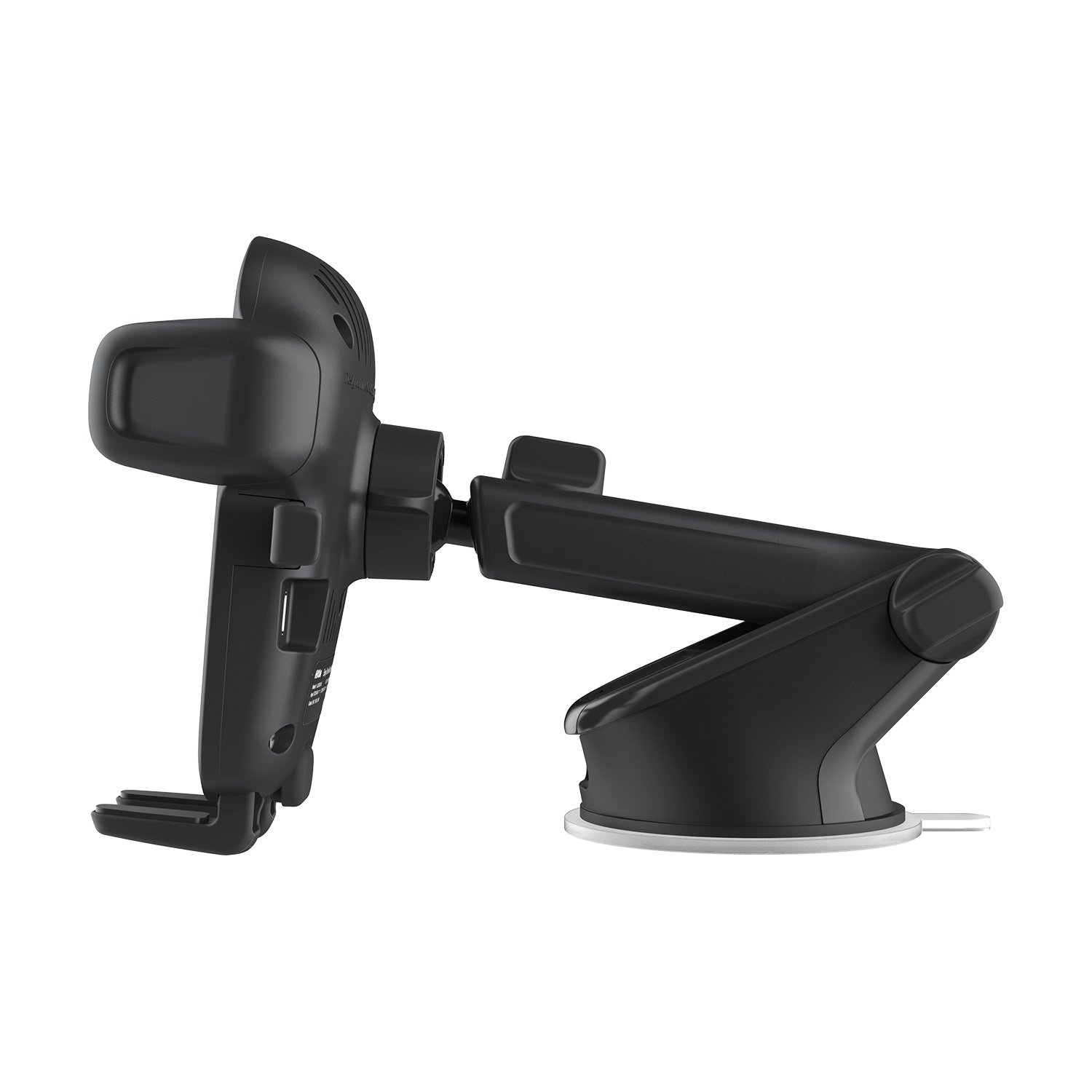 Sleek and compact design to match your handset
Designed to perfectly complement your Handset, the iOttie in-car phone mount is designed to reflect the contemporary and sleek styling of all recent smartphones, functional and attractive all in one device!
PLEASE NOTE: Not all handsets support wireless fast charging 'out of the box'. Certain smartphones will require an adapter to be able to perform wireless charging at all, please check your phone supports Qi wireless charging and wireless fast charging before purchasing. For more information please click the 'Wireless Charging Guide' above.
Detalles Clave
| | |
| --- | --- |
| Part No | HLCRIO142 |
| UPC | 0852306006527 |
| Referencia | 65431 |
| Color | Negro |
| Brand Name | iOttie |
Envío y Devoluciones
Envío ordinario 4,50€
Lo entregará su cartero habitual. Si entra en el buzón se depositará ahí, sino se le dejará el papel amarillo para que pase a buscarlo por la oficina de Correos correspondiente. No incluye número de seguimiento. El plazo de entrega aproximado es de 6 a 8 días laborables (de Lunes a Viernes).
DHL 24/48h 26,99€
Lo entregará DHL Express. Incluye número de seguimiento y se solicitará firma. El repartidor siempre lo entregará en mano y suele llamar antes de realizar la entrega. El plazo de entrega suele ser de 24h, excepto en localidades más apartadas que son 48h (de Lunes a Viernes).
Si tu pedido es menos de 150€ (sin incluir gastos de envío), el IVA ya está incluido en el precio que sale a la hora de realizar el pedido. No habrá portes adicionales a la hora de entregar el pedido. Para más informaciones, ver la sección de información de envío.


Nota:
Los tiempos estimados de llegada se toman directamente de la información proporcionada por nuestros mensajeros. Estas son solo estimaciones, MobileFun no es responsable si esto varía. Todos los productos se envían desde nuestro almacén en el Reino Unido. Artículos faltantes o retrasados: tenga en cuenta que tendremos que esperar 20 días hábiles antes de poder rastrear, reemplazar o reembolsar los artículos perdidos. El Servicio de Correo no estará disponible para pedidos de alto valor, se aplicará el método de Envío Express.
Negativa a pagar cargos - Política de devoluciones
Si se niega a pagar los derechos de importación o el IVA recaudado sobre su envío, esto puede resultar en que el envío sea devuelto a Mobile Fun. En este caso, todos los cargos de devolución relacionados más un cargo mínimo de administración de £ 5.00 (o moneda equivalente al tipo de cambio actual) se cargarán contra el monto final de su reembolso.