Choetech Universal 65W PD GaN Travel Charging Adapter With 2 USB-C Ports - Black
With 4 different built-in plug types; UK, USA, Europe, AUS & China and 2 USB-C ports, this compact but powerful PD 65W travel charger from Choetech is the perfect companion for you wherever in the world you may be travelling to. Never run out of power!
Otros clientes también compraron
Key Features
What is GaN and why do you need it?
Perfect travel accessory
Designed to be used around the world
Comes with 2 USB-C ports and 1 USB-A port
Multi-region adapter for mains devices
Descripción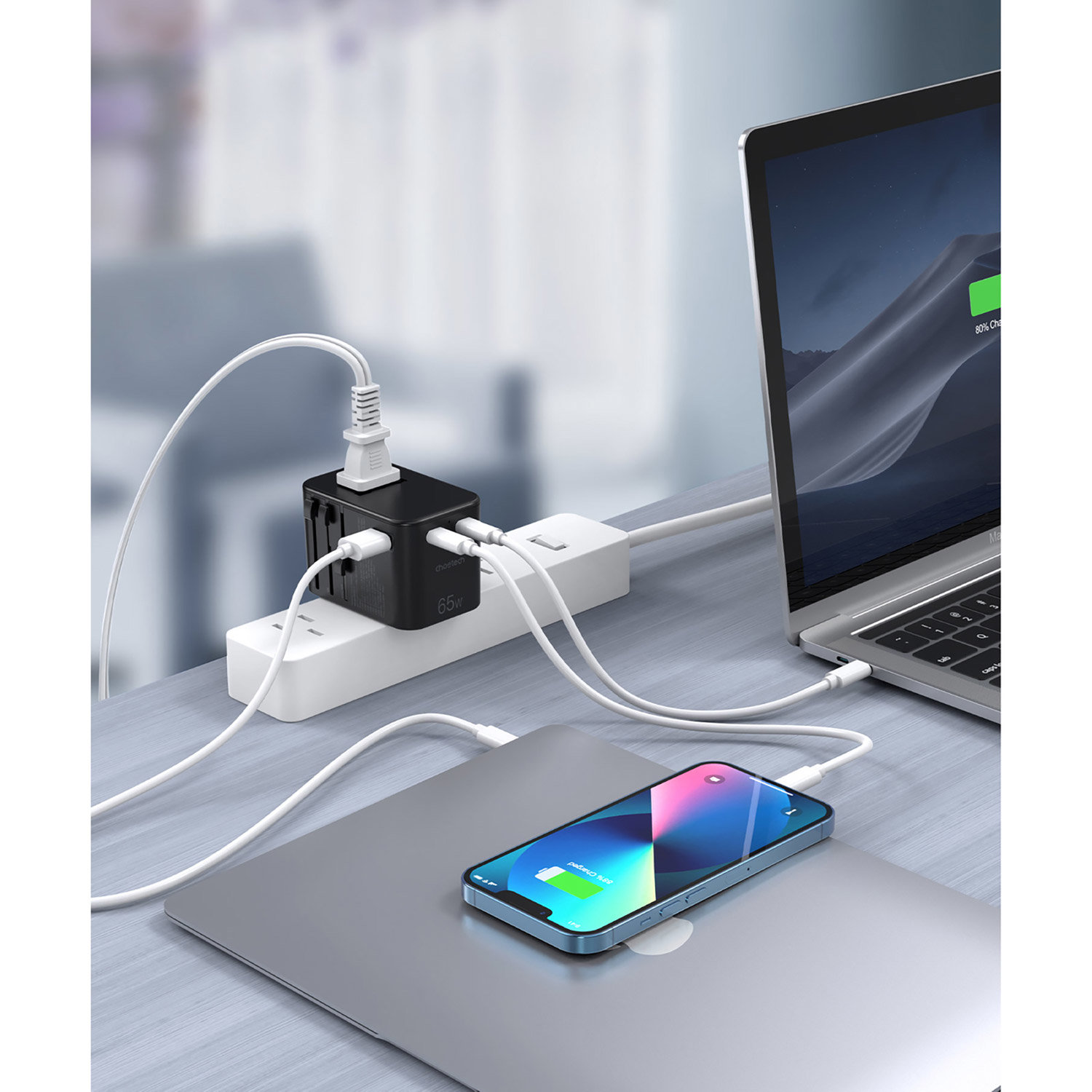 A charger that not only powers your phone but also your tablet or laptop and can charge three devices at once? It has to be Choetech 65W PD GaN travel charging adapter! This wall charger has three built-in ports: two USB Type C (max 65W) and a USB (max 30W). When you connect your devices to all ports, the Choetech travel adapter will charge them with a combined power of up to 60 watts. With GaN components, the charger is efficient, powerful and fast. The Choetech travel adapter supports Power Delivery fast charging standards. It will not be intimidated by any challenges!
What is GaN and why do you need it?
Gallium nitride, or GaN, is a material that is becoming more and more common in the semiconductor industry. In the early 90s, it was used to make LEDs and is still today often used to make solar cell arrays on satellites - basically, GaN is your go-to for great energy-efficient tech'. The main reason engineers love GaN is because not only is it capable of producing higher outputs of energy, it also produces less heat. This is vital because less heat means internal components can be closer together, so your charger can now be made smaller than ever before, whilst maintaining all - if not tonnes more - of the power capabilities. GaN is also rigorously safety tested - meaning not only are you getting a super-fast efficient charger but a safe one too!
Perfect travel accessory
Designed for easy use and convenience, the Choetech adapter allows you to charge any device from just one main power socket no matter where in the world you are. Don't get caught out in your travels anymore, with Choetech you can rest assured that with one adapter you can jett off to any part of the world and you will always be able to charge your devices.
Designed to be used around the world
For those who are constantly on the go and travelling, the Choetech Universal adapter is the perfect travel accessory. With an extremely slim design that is combined with interchangeable UK, US, EU, AUS and China plug heads, the Choetech Adapter is the only travel adapter you will ever need.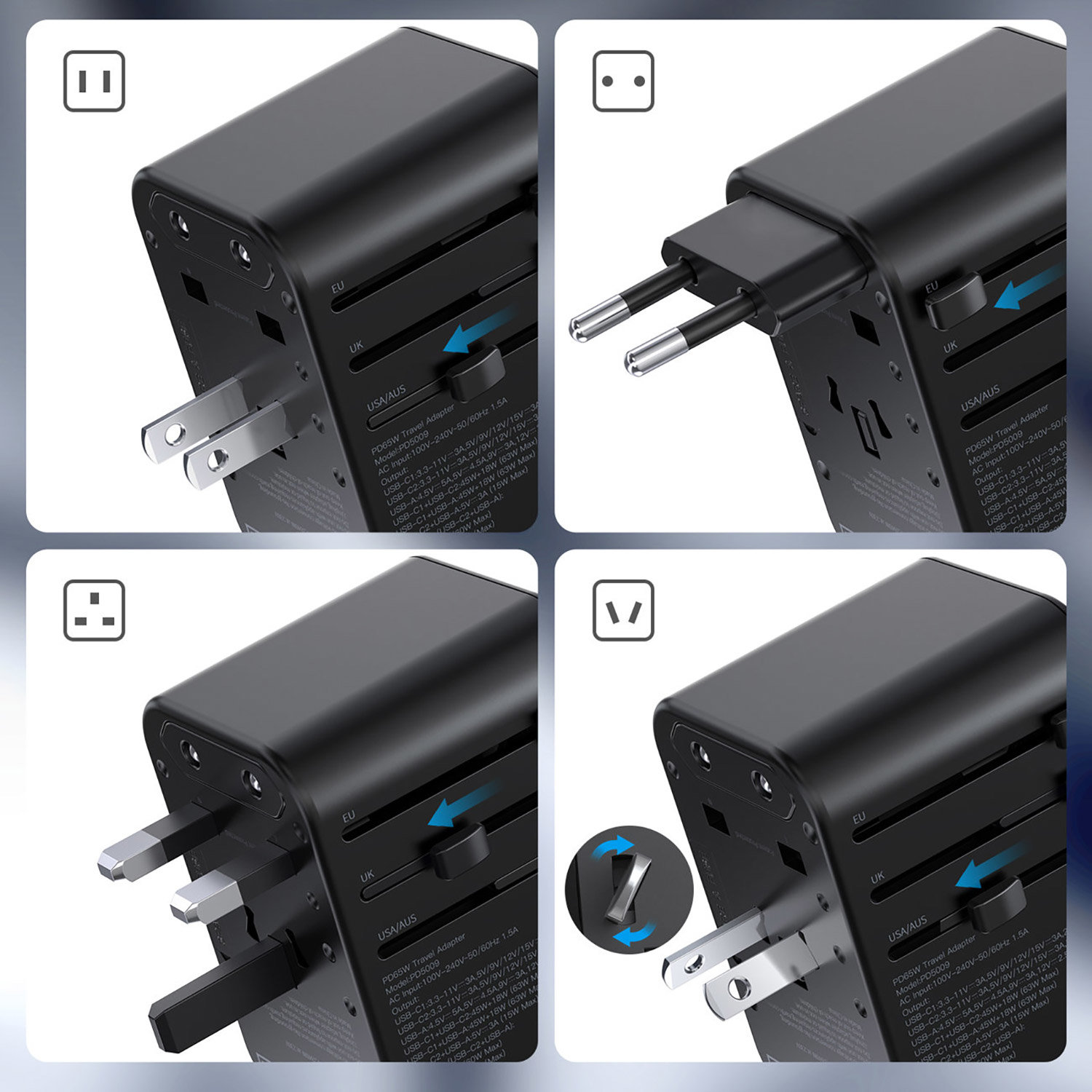 Comes with 2 USB-C ports and 1 USB-A port
Not only do you get instant charge no matter what part of the world you travel to, but you can also charge 3 devices simultaneously due to the 2 in-built USB-C ports and 1 USB-A port in this adapter. It is a must-have on your travels.
Multi-region adapter for mains devices
Not only is the Choetech a super-handy travel plug for your smartphone and tablet, but it is also an adapter socket for your laptop, toothbrush, or any other mains-charged device. Whatever you might need to charge, you can use do it easily with the Choetech adapter.
Specifications:
Model: PD05009
Ports: USB, 2 x USB Type C
Input: AC 100-240V 50/60Hz 1.5A
Output: USB - 4.5V / 5A, 5V / 4.5A, 9V / 3A, 12V / 2.5A, 20V / 1.5A (maximum output up to 30W); USB Type C1 and C2 - 3.3V - 11V / 3A, 5V - 15V / 3A, 20V / 3.25A (maximum output up to 65W); USB Type C1+C2 - 63W Max; USB Type C2 + USB - 15W Max; USB Type C1 + C2 + USB - 60W Max
Dimensions: 114 x 35 x 114 mm (L, W, H)
Color: black
Detalles Clave
| | |
| --- | --- |
| Part No | PD5009-BK |
| UPC | 6932112102027 |
| Referencia | 90217 |
| Color | Negro |
| Brand Name | Choetech |
Envío y Devoluciones
Envío ordinario 4,50€
Lo entregará su cartero habitual. Si entra en el buzón se depositará ahí, sino se le dejará el papel amarillo para que pase a buscarlo por la oficina de Correos correspondiente. No incluye número de seguimiento. El plazo de entrega aproximado es de 6 a 8 días laborables (de Lunes a Viernes).
DHL 24/48h 26,99€
Lo entregará DHL Express. Incluye número de seguimiento y se solicitará firma. El repartidor siempre lo entregará en mano y suele llamar antes de realizar la entrega. El plazo de entrega suele ser de 24h, excepto en localidades más apartadas que son 48h (de Lunes a Viernes).
Si tu pedido es menos de 150€ (sin incluir gastos de envío), el IVA ya está incluido en el precio que sale a la hora de realizar el pedido. No habrá portes adicionales a la hora de entregar el pedido. Para más informaciones, ver la sección de información de envío.


Nota:
Los tiempos estimados de llegada se toman directamente de la información proporcionada por nuestros mensajeros. Estas son solo estimaciones, MobileFun no es responsable si esto varía. Todos los productos se envían desde nuestro almacén en el Reino Unido. Artículos faltantes o retrasados: tenga en cuenta que tendremos que esperar 20 días hábiles antes de poder rastrear, reemplazar o reembolsar los artículos perdidos. El Servicio de Correo no estará disponible para pedidos de alto valor, se aplicará el método de Envío Express.
Negativa a pagar cargos - Política de devoluciones
Si se niega a pagar los derechos de importación o el IVA recaudado sobre su envío, esto puede resultar en que el envío sea devuelto a Mobile Fun. En este caso, todos los cargos de devolución relacionados más un cargo mínimo de administración de £ 5.00 (o moneda equivalente al tipo de cambio actual) se cargarán contra el monto final de su reembolso.