AGL PIR Motion Sensor Wireless Outdoor Security Light - Solar Powered
Increase security and safety around your property or business with this solar powered security lamp. With 250 lumens the battery provides up to 90 activation's per charge - No wiring or batteries required.
¿Por qué comprar?
Motion-sensitive security light for any external area
Solar powered rechargeable battery
Charge all day, shine all night
Ideal for outdoor use
The passive infrared sensor constantly and efficiently detects movement
Bright illumination with 250 lumens
Completely wireless with no trailing cables
Easy mounting - fixings included
Descripción
Motion-sensitive security light for any external area
If you own a property or business and want to keep you and others safe at night, you won't go far wrong installing one of these brilliant security lights. Simply install one of these in any area that requires it. Built-in PIR motion sensor technology ensures that the light will activate each time movement is detected by the sensor - up to a range of about 10ft (3m), so you won't even need to press a single switch. The effect is pleasing and VIP-like as your path is illuminated and it will certainly deter any would-be intruders. Another more important aspect is safety. If you have children moving around in the dark, or even tired, weary adults, the safety benefits of having their area lit are invaluable. If you can't see something, you can trip over it.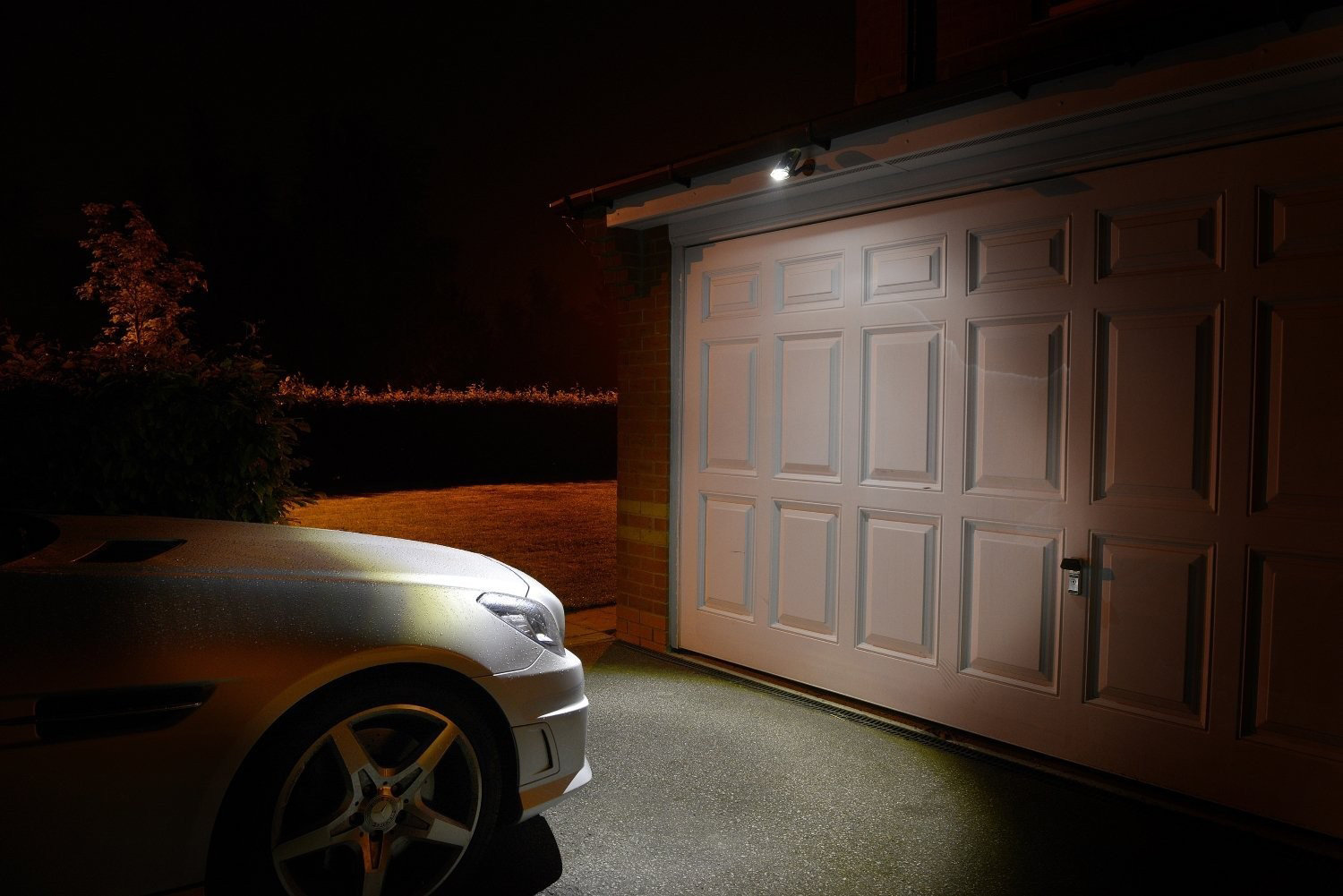 Solar powered rechargeable battery
Don't worry about clumsy, ugly, awkward and intrusive wiring around your property as this light is powered by natures greatest energy source - our sun. Light and heat travel 93 million miles to be absorbed and converted into stored energy by the advanced solar panel technology onboard. You obviously don't need to use the light in the day and the 'dusk 'til dawn' sensor will ensure the lamp won't activate in daylight anyway, so it's good news that this time is not wasted.
Charge all day, shine all night
The beauty of having solar powered recharging is that it's not only very, very energy efficient and good for the environment, it also means you have a full battery charge to use every night and this charge can provide all the power needed - over 10 hours of operation per night in fact - or over 90 activations.
Ideal for outdoor use
This light is designed for outdoor use with very little or no maintenance. This also makes sense as it's solar powered. There's nothing to stop you using it indoors if you can guarantee a good amount of sunlight, but as it is intended for outdoor use primarily. This means the weather will not affect it at all.
The passive infrared sensor constantly and efficiently detects movement
AGL PIR Motion Sensor features a passive infrared sensor, which is constantly scanning for movement. When motion is detected, the light will instantly switch on and stay on for 28 seconds after movement has ceased, then blink off as soon as that time period elapses.The motion sensor hardly uses any battery power, though - this is an efficient and convenient lighting solution. The light sensitivity meter will measure the amount of light too to detect if it needs to activate or not.
Bright illumination with 250 lumens
When the security light is called upon, 1x 3w Super Bright LEDs illuminate the local area with white light. This light is rated at over 250 Lumens, which in darkness is quite something. This is more than enough to deter intruders, warn people of somebody's presence or light the local area so that you can see where you're going. Whether this is getting stuff out of the car, getting the car into the garage or simply to help see where your keys are. There is no end of good reasons why you'd want a good amount of light.
Completely wireless with no trailing cables
The solar Powered AGL PIR Motion Sensor Wireless Outdoor Security Light is totally reliant on it own internal battery, so there's no need to find a spare mains socket or run an annoying extension cable to your preferred location.
Easy mounting - fixings included
All you need is a good location on an external wall. Consider a place that will get decent sunlight and consider the area that will be illuminated underneath. Make sure it's where you need it. All you do is fix it to a wall with the included fixings. If you cannot manage this yourself, any good tradesmen should manage it in minutes.
Detalles Clave
| | |
| --- | --- |
| Part No | AG277 |
| Referencia | 70871 |
| Color | Negro |
Envío y Devoluciones
Envío ordinario 4,50€
Lo entregará su cartero habitual. Si entra en el buzón se depositará ahí, sino se le dejará el papel amarillo para que pase a buscarlo por la oficina de Correos correspondiente. No incluye número de seguimiento. El plazo de entrega aproximado es de 6 a 8 días laborables (de Lunes a Viernes).
DHL 24/48h 22,50€
Lo entregará DHL Express. Incluye número de seguimiento y se solicitará firma. El repartidor siempre lo entregará en mano y suele llamar antes de realizar la entrega. El plazo de entrega suele ser de 24h, excepto en localidades más apartadas que son 48h (de Lunes a Viernes).
A partir del 01/01/2021, cualquier pedido que se envíe a la UE estará sujeto al IVA de importación si el producto combinado y el precio de envío superan los 22 €. Si el valor del pedido supera los 150 €, también puede estar sujeto a tasas de impuestos. Para obtener más información, visite el sitio web de su gobierno local.
Nota:Nota: Si el valor de tu pedido (incluyendo gastos de envío, con envío ordinario) supera 22€ y el pedido contiene más de un artículo, cuando y si aplicable los enviaremos en paquetes separados (máximo 3) para que no tengas que pagar IVA de importación.
Para pedidos con valor de menos de 22€ (incluyendo gastos de envío), no se aplica IVA de importación.
Negativa a pagar cargos - Política de devoluciones
Si se niega a pagar los derechos de importación o el IVA recaudado sobre su envío, esto puede resultar en que el envío sea devuelto a Mobile Fun. En este caso, todos los cargos de devolución relacionados más un cargo mínimo de administración de £ 5.00 (o moneda equivalente al tipo de cambio actual) se cargarán contra el monto final de su reembolso.