4Smarts Triple Insulated Smart Water Bottle W/ Audio Reminder - 500ml
DESCATALOGADO
- no disponible para comprar
Always know your drink is the optimum temperature with this triple insulated, 500ml Portable Water Bottle - the perfect on-the-go accessory. Featuring an integrated 2 hour reminder to take a drink & a LCD Display to tell you your drinks temperature!
¿Por qué comprar?
Reminds you to drink every 2 hours
Touch display for displaying the liquid temperature
Different light depending on temperature
Holds 500ml
Features triple insulation
Comfortable, easy to grip bottle
Descripción
Be reminded to have a drink every 2 hours with this super smart water bottle from 4Smarts. Not only does it remind you to take a drink, the triple insulation helps keep your drink cold or warm; depending on what drink it is! The touch display will let you know the exact temperature of your water bottle, whilst the colour indicator around the bottle lid will let you know whether that temperature is too hot, about right or just right!
Comfortable, easy to grip bottle
This sleek, stunning water bottle from 4Smarts has been made with comfort in mind. It is super easy to grip and hold for long periods of time and won't burn your hand when hot due to the triple insulation.
Holds 500ml
This water bottle can hold an amazing 500ml of liquid. This is a perfect amount for a long car journey or walk, as much more than that may lead to you needing to stop on your way!
Reminds you to drink every 2 hours
A really cool feature of this water bottle is that it will actually remind you to drink every 2 hours! This is such a great feature as many will get too absorbed into working and will forget to stop and take a drink, leading to dehydration and less effective working! With this, you can be reminded to have a drink every 2 hours and stay hydrated!
Touch display for displaying the liquid temperature
A really unique feature of this bottle is that it actually will tell you the temperature that the liquid inside of it is! Whether that's soup, a coffee or an iced drink, you can feel assured that the drink will be the temperature shown, helping you avoid burning your mouth!
It even has 3 different light colours as indicators on whether the drink is a good temperature (green), whether to be cautious (yellow) or whether to not drink it yet due to it being too hot (red). If Goldilocks had had this bottle when she had tried all the beds, she wouldn't have had to waste so much time!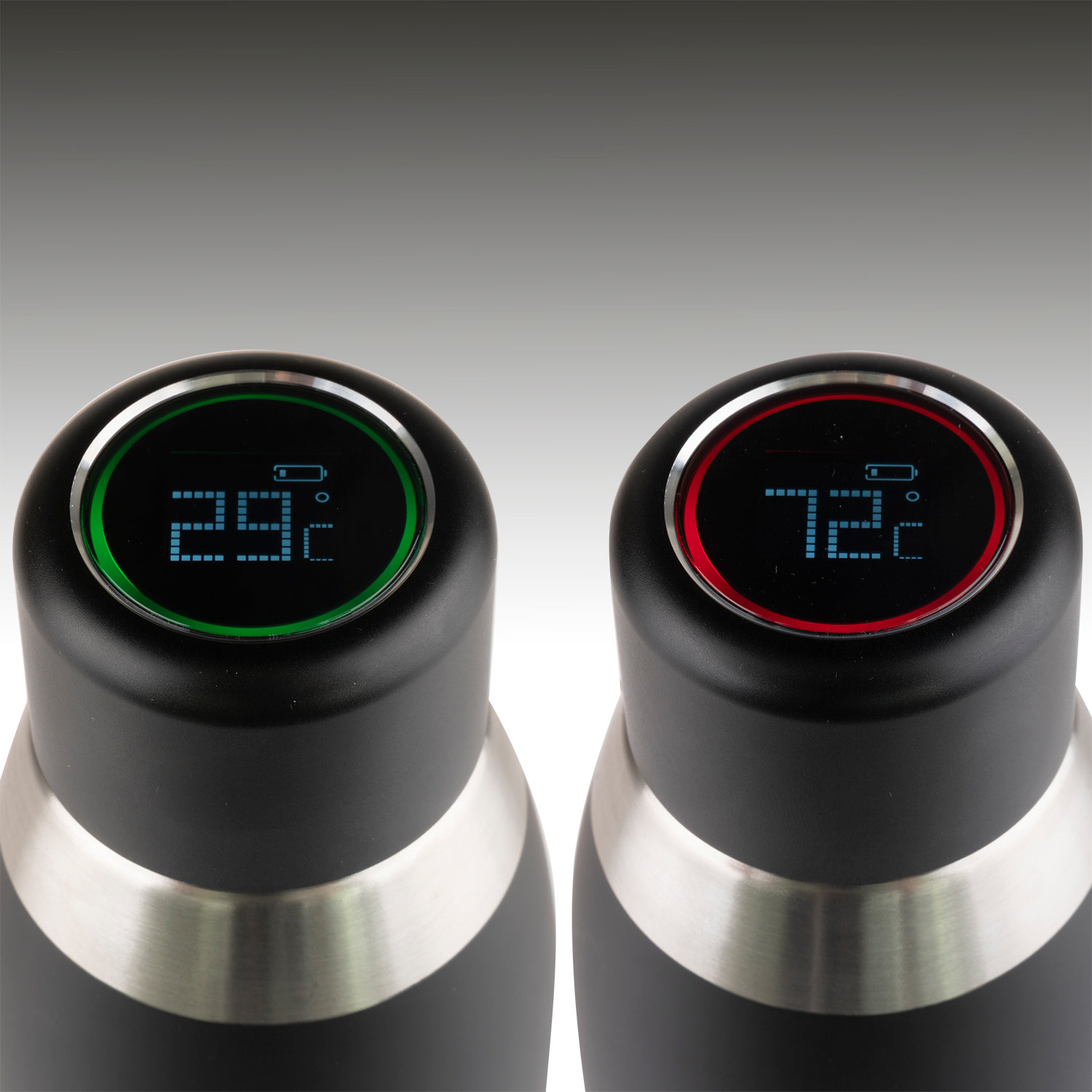 Features triple insulation
This bottle features triple insulation. This is a wonderful, extremely beneficial feature as it can keep your drink hot whilst you're on a long car journey or walk in the cold, or it can keep your drink fresh and cold in the warm sun!
Please note:
Don't fill it with boiling water!
Hand wash only!
Not microwaveable!
Do not remove the battery!
Do not store the bottle at high temperatures or in sunlight!

Specifications:
Capacity: 500ml
Dimensions: 239 x 70 x 46mm
Material: Stainless steel
Display: LCD
Battery: Li-Polymer 270mAh
Detalles Clave
| | |
| --- | --- |
| Part No | 461386 |
| UPC | 4250774988431 |
| Referencia | 84876 |
| Color | Negro |
Envío y Devoluciones
Envío ordinario 4,50€
Lo entregará su cartero habitual. Si entra en el buzón se depositará ahí, sino se le dejará el papel amarillo para que pase a buscarlo por la oficina de Correos correspondiente. No incluye número de seguimiento. El plazo de entrega aproximado es de 6 a 8 días laborables (de Lunes a Viernes).
DHL 24/48h 22,50€
Lo entregará DHL Express. Incluye número de seguimiento y se solicitará firma. El repartidor siempre lo entregará en mano y suele llamar antes de realizar la entrega. El plazo de entrega suele ser de 24h, excepto en localidades más apartadas que son 48h (de Lunes a Viernes).
A partir del 01/01/2021, cualquier pedido que se envíe a la UE estará sujeto al IVA de importación si el producto combinado y el precio de envío superan los 22 €. Si el valor del pedido supera los 150 €, también puede estar sujeto a tasas de impuestos. Para obtener más información, visite el sitio web de su gobierno local.
Nota:Nota: Si el valor de tu pedido (incluyendo gastos de envío, con envío ordinario) supera 22€ y el pedido contiene más de un artículo, cuando y si aplicable los enviaremos en paquetes separados (máximo 3) para que no tengas que pagar IVA de importación.
Para pedidos con valor de menos de 22€ (incluyendo gastos de envío), no se aplica IVA de importación.
Negativa a pagar cargos - Política de devoluciones
Si se niega a pagar los derechos de importación o el IVA recaudado sobre su envío, esto puede resultar en que el envío sea devuelto a Mobile Fun. En este caso, todos los cargos de devolución relacionados más un cargo mínimo de administración de £ 5.00 (o moneda equivalente al tipo de cambio actual) se cargarán contra el monto final de su reembolso.